Jazmin, the Glasgow Women's Library's Readers of Colour Intern, tells us about the programme's partnership with Fringe of Colour.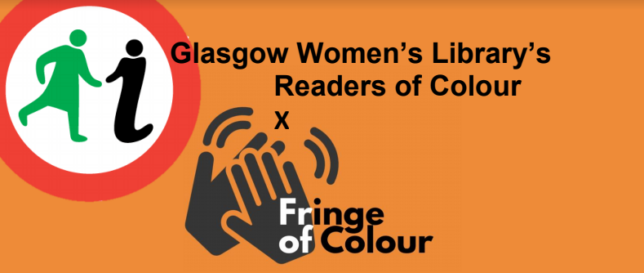 Hi everyone! My name is Jazmin, and I'm interning with Glasgow Women's Library's Readers of Colour programme. As part of my internship, I got the chance to attend a couple of Fringe of Colour events last week with Readers of Colour members, which was spectacular. If you haven't heard of Fringe of Colour before, it's a program created and organized by Jessica Brough that offers free tickets to Edinburgh Fringe Festival shows by writers and performers of colour. Jess volunteers her own time to organize this program, and this year, the Fringe of Colour events include shows such as For Sukh's Sake, Pink Lemonade, Burgerz, and many others. To see the full list of included comedy, theatre, musical, cabaret, drag, dance, and spoken word shows, you can click here: https://docs.google.com/spreadsheets/d/176IK8sTTH0AbJ1j4xDOyRUY-h4vWAX5W4uwno_gPMk4/edit#gid=0.
As someone attending the Fringe Festival for the first time, I couldn't have asked for a better introduction. As a woman of colour myself, all I really want from my festivals is more diverse content, and I was amazed to see that not only does that content exist, but it is incredibly accessible (did I mention that tickets are free?) – thanks to the hard work of Jess. As a group last Wednesday, we were able to see showings of Enough and Until The Flood, both on offer at the Traverse Theatre.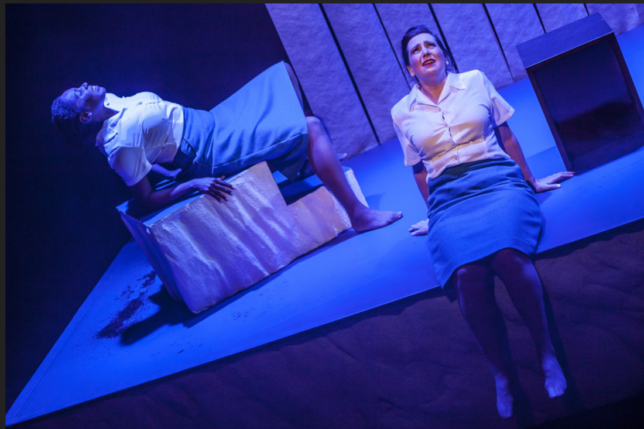 *** WARNING: This part may contain spoilers about the two shows ***
Enough tells the story of two women, Jane and Toni, who work as flight attendants and have perfected the mask of comfort and accommodation that their passengers expect from them. However, those masks slowly slip and crack apart as the show progresses, revealing the darker struggles that the two women face in their personal lives. (I'll note here that trigger warnings should be emphasized – Enough contains discussion of sexual assault). Toni struggles with being in a physically abusive relationship with a partner who she can't help going back to again and again. Meanwhile, Jane tries to cover up her discontent her life, gradually realizing that while she loves her husband and children, and she may not love herself. Both Toni and Jane's battles to hide their problems from each other and themselves are beautifully acted out, with the set behind them cleverly manipulated to embody the two women falling apart. While we as a group enjoyed the show and some of its more cinematic elements, there was a bit of confusion as to the timeline of events, and how exactly Toni and Jane find peace after confronting these issues. One theory was that Toni and Jane are saved by feminism, or rather, the support that strong feminists are able to give them. Throughout the play, the women consistently refer to a "pounding" coming from the ground beneath them, which could be interpreted as those feminist breaking through. Ultimately, the end of the play is up to interpretation, so I would recommend seeing it for yourself and forming your own theories!
The second play that we saw was Before The Flood, which was emotional, powerful, and incredibly well performed. Before The Flood is written and performed by one woman, Dael Orlandersmith, who tells the story of the shooting of Michael Brown in Ferguson, Missouri through the voices of multiple people connected to it. Brown's death sparked the Black Lives Matter movement in 2014, and Orlandersmith represents nearly every opinion on it that was publicly expressed through these characters. From a local businessman with white supremacist beliefs to a school teacher at the nearby secondary school to a young Black teenager who lived in Michael's building, Orlandersmith uses the beliefs and experiences reported by the media to build nuanced characters who illustrate the bigger picture of the socio-political environment in which Michael died. When discussing the play afterwards, we all found that she fully embodied her characters, so much so that we didn't really see Orlandersmith in the play, but rather visually imagined in our heads the people that she became. While racialized police brutality in America and the Black Lives Matter movement is something we agreed everyone should already know about, Orlandersmith brings us back to the heart-breakingly human element of it, and gives us a crucial reminder that these systemic problems have yet to be solved. I could not recommend this play enough- if you're still looking for a play to see, look no further than Before The Flood.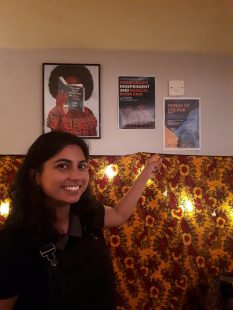 Photo of me in the Fringe of Colour Space at Lighthouse Books
Lastly, during my busy and exciting day at Fringe, Nadine (organizer of Readers of Colour), took me to visit the Fringe of Colour space at Lighthouse Books, Edinburgh's radical bookshop located at 43 West Nicolson Street. The Fringe of Colour reading space is on the bottom floor of the bookshop, and if you haven't been, I'd also recommend checking it out! This quiet nook is filled with books to read, and has a bookshelf of proofs (unedited early versions of books) for you to take home if you feel so inclined. Spending some time here was the perfect way to ride out the weeping storm clouds outside, so next time it rains, I hope to see some of you there!
P.S. As one final note, I have one more recommendation for Fringe shows- a couple of our Readers of Colour highly recommend the show Burgerz, which they insist is the BEST show Fringe has to offer this year. Burgerz is on at the Traverse Theatre, and I have yet to see it- although, just from hearing them speak so enthusiastically about it, I'm going to have to make the time to see it for myself!