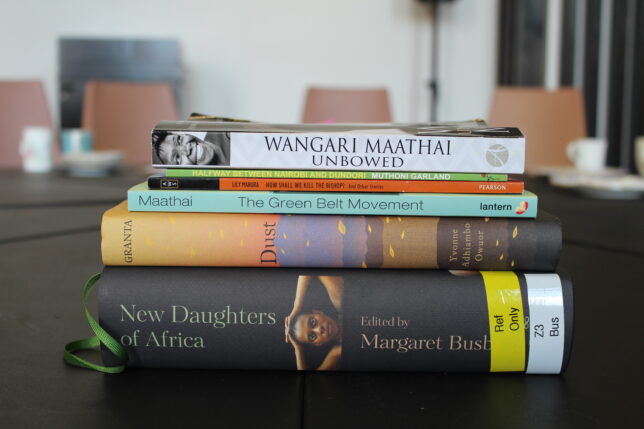 After a little summer break, we're happy to announce that Story Café is back! To celebrate this week's visit from Book Bunk, our sister organisation in Nairobi, our Story Café on the 8th of August focused on brilliant Kenyan artists and activists such as Wangari Maathai, Wanuri Kahiu, and Wanjiku Mwaurah. For anyone who wasn't able to make it to GWL in person that  day, here's a little recap of an inspiring afternoon of talking Kenyan creatives.
Once everyone had settled down around the round table with a cup of tea, Wendy began reading extracts from Wangari Maathai's memoir Unbowed. In her autobiography, Maathai recounts her life from growing up in a small village in Kenya until she was awarded the Nobel Peace Prize for her political, feminist, and environmental activism in 2004. In 1977, Maathai founded the Green Belt Movement (GBM), a non-governmental grassroots organisation promoting environmental conservation and women's empowerment. Since its establishment, GBM has planted over 51 million trees in Kenya as a way to improve climate resilience. Apart from combating climate change, Maathai authored four books and was the first woman in East and Central Africa to earn a PhD, a doctorate in veterinary anatomy. When discussing Maathai's accounts of the importance of education for girls and the power of storytelling, some of the women attending Story Café talked about their own memories of sharing stories and how these experiences were both educational and entertaining. One woman empathised with Maathai's feeling of being connected to the earth while gardening. Whether it's on a field in Ihithe, Kenya or in an allotment in Glasgow, Scotland, it's a universal feeling to forget time and feel like part of something bigger when getting covered in soil.
After an invigorating tea break, we were introduced to Wanuri Kahiu and her marvellous work as a filmmaker, author and AfroBubbleGumist (more on that shortly). Kahiu produced a documentary about Wangari Maathai as part of MNET's 'Great Africans' series. For anyone wanting to learn more about Maathai's legacy, Kahiu's documentary For Our Land can be accessed via her website. Next, we watched the trailer of her latest film Rafiki, a beautiful love story about two Kenyan girls falling in love with each other, that Kahiu based on Monica Arac de Nyeko's short story 'Jambula Tree.' The film, which was the first Kenyan contribution to premiere at the Cannes Film Festival in 2018, was banned in Kahiu's home country for 'promoting lesbianism.' However, after Kahiu successfully sued the Kenyan government, Rafiki was subsequently shown for seven days, making the film eligible for last year's Oscar nominations. While the film depicts the realities of being queer in a homophobic society, it's first and foremost a tender story about the thrill and joy of first love. The concept of creating and promoting 'fun, frivolous and fierce work' is at the heart of Afrobubblegum, the collective of African artists that Kahiu is a part of. In her 2017 Ted Talk, which we watched following the Rafiki trailer, Kahiu comes up with her own version of the Bechdel-Test:
"Are two or more Africans in this piece of fiction healthy? Are those same Africans financially stable and not in need of saving? Are they having fun and enjoying life? And if we can answer yes to two or more of these questions, then surely we're AfroBubbleGumists."
After listening to Kahiu's powerful Ted Talk, Wendy introduced us to the equally powerful organisation Book Bunk, a project founded by Wanjiru Koinange and Angela Wachuka that aims to restore and install public libraries in Nairobi. Book Bunk's mission is to decolonise public libraries like the country's second-oldest library, the McMillan Memorial Library, and transform them into dynamic and inclusive public spaces. Their 'About Us' film, which inspired everyone at Story Café, explains their mission wonderfully. We couldn't be more excited to welcome some of the brilliant Book Bunk team to GWL for their week-long research trip! There'll be a couple of events on this week during which you'll get the chance to meet members from Book Bunk and learn more about their innovative work. They will be listed at the bottom of this page and you can also find them on the upcoming events page.
Our first Story Café after the break ended with us listening to an audio recording of Wanjiku Mwaurah's moving poem 'The Fall.' The poem is featured on Badilisha Poetry X-Change, an audio archive and radio show that is managed by Wanjiru Koinange. Providing a new and global stage for Pan-African poets, the project has archived more than 350 poets from 22 different countries.
Our afternoon of learning about Kenyan writers, activists and organisations left everyone feeling inspired; one participant said: 'So inspiring, going home to look up the writers and read their books and watch the film Rafiki!'
Read Jacqueline's moving blog post about her involvement in this week's Book Bunk visit and check out the following events with the wonderful women from Book Bunk:
This Wednesday, Wanjiru Koinange will talk about her debut novel The Havoc of Choice and about how art can effect social change during the Readers of Colour meet-up.
On Thursday, Book Bunk will showcase their brilliant work of transforming public libraries in Nairobi as part of our evening Autumn Programme Launch.
Last but not least, don't miss out on Friday's Story Café Special with Wanjiru Koinange where she'll talk about her novel The Havoc of Choice.