At GWL we're proud that we spread our programmes around the city by bike, on foot and by public transport. Not only is this rooted in our environmental values, but this also means that we have the chance to chat and connect to the people we meet in the places we drop off our programmes – cafes, post offices, galleries, community centres. Leading on this distribution a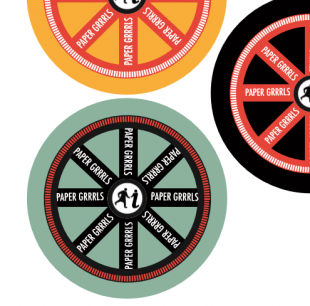 re a wonderful group of women keen to spread the word about the Library across the city: The Paper Grrls!
Our team of Paper Grrls deliver our programmes to organisations, groups and businesses in the North, South, East, West and Centre of Glasgow, helping us to let more people know about what we do, what we can offer and how you can be involved. Our programme includes information on all our upcoming events such as heritage walks, creative writing workshops, story cafes, film screenings and our friendly Seeing Things group.
As we near the launch of our Autumn Programme we wanted to put a call out to ask whether you're interested in joining our lovely Paper Grrls group!
Maybe you don't see our programmes in your local area and think there are spaces it'd be good to place them or perhaps you're new to the city and would like to get more confident finding your way around different areas? If so, we'd love you to join us in spreading the word and celebrating the lives and achievements of women!
As well as getting the chance to explore new parts of the city and discover local coffee shops, tea rooms, independent shops and art galleries, this volunteer role is a way of being our champion and connecting with the Library when you have a limited amount of free time. If you just have a couple of hours every two months or if you're up for helping out with one programme, we'd love to have you involved. We'll provide you with maps of the routes, a very special PaperGrrl badge, expenses to cover your travel to GWL to pick up programmes and our eternal gratitude!
If you're interested in joining our Paper Grrls and helping out (even if it's just for one programme run) come along to our Paper Grrls Catch Up on Tuesday 6th August from 5.30pm to 7pm where we'll be talking all things Paper Grrls with tea and cake, or get in touch by emailing emily.ilett@womenslibrary.org.uk.