Collaborative Artistic Workshops Led by Aby Cohen
We are excited to be working with Brazilian/Slovenian artist Aby Cohen to offer this professional development opportunity for 12 artists to join a mentoring programme during October and November 2019 culminating with a public sharing.
Expressions of interest are now open for artists from the field of Visual Arts, Theatre and Performance to be part of INTERSECTIONS, an immersive, integrated and interdisciplinary creative process exploring the subject of political resistance with scenographer and art director Aby Cohen.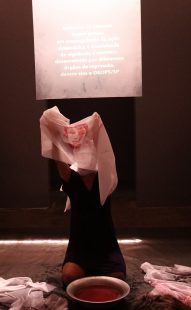 INTERSECTIONS is the third stage of the project Desenhos de Cena#, (DRAWING SCENES#), which involves artistic research leading to the creation and sharing of new works based on collaboration between participating artists. The previous editions of this project, Cena#1 and Cena#2 were realised in Sao Paulo/2016 and in Taipei/2017, respectively followed by further iterations in Brazil and Wales in 2018.
Selected artists will be supported to develop work that draws from the Glasgow Women's Library archive, location and history, to offer a local response to political issues that have a global resonance. Works produced will contribute to an ongoing dialogue with artists in Brazil about resistance to the persistent erasure and marginalisation of different voices in oppressive political circumstances. The workshop process will give participants space to explore diverse forms of art and its spaces, make connections with other artists, and develop skills with an emphasis on collaboration, highlighting the collective as a loud voice for change.
Schedule
There will be 8 collaborative workshops led by Aby Cohen:
Tuesday 1st, Wednesday 2nd, Tuesday 8th and Wednesday 9th October, 10am to 4.30pm
Thursday 7th, Friday 8th, Tuesday 12th and Wednesday 13th November, 10am to 4.30pm
Public Presentation*: 14th November, 7pm to 10pm**
All sessions will take place at Glasgow Women's Library, 23 Landressy Street, Glasgow G40 1BP
*this event will be open to all
**with rehearsals and preparation time from 10am to 5pm
Open call for Registration
Women who have an interest in or who already have a practice in in the areas of Visual Arts, Music, Dance, Theatre and/or Performance. Women with skills in visual arts, installation, digital media, set design, stage design, building, painting, costume design or making, music, dance, sound design, lighting design, among other related areas.
Limited to 12 participants
How to register your interest in this opportunity
These workshops are for women* only. Please send a short bio, a letter of interest, a digital image and a few words to illustrate  your perspective on one of the following subjects:
A Memory of a local or global event/fact;
A trace of identity which remains nowadays;
The boundary (or the breaking of) between reality and fiction;
Something you would like to dig out or bury
The text should be up to, but no longer than, two sides of A4. Please send the required material to info@womenslibrary.org.uk with the subject heading: CENA#3 Application. If you have any questions contact Caroline Gausden or Laura Dolan at Glasgow Women's Library.
If you are including any large images or files please send these using WeTransfer or a similar file sharing service.
Remember to include your contact details including email, telephone number and address and any relevant web-links you might want to share. Please ensure that you are available on all the dates of the workshops and sharing session before applying.
All applications must be submitted by 12pm on Friday 6th September 2019.
*All women-only events are inclusive of Trans and Intersex women, as well as non-binary and gender fluid people.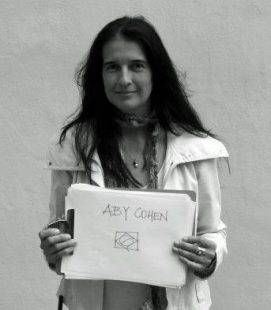 ABY COHEN, is a Brazilian/Slovenian scenographer and curator, working at the intersection between performance, theatrical design and exhibition curation to create important projects in Brazil and abroad (USA, Portugal, United Kingdom, Czech Republic, Netherlands, Taiwan and Suriname). She has been recognised internationally for her contributions to the arts receiving a Golden TRIGA award at Prague Quadrennial (PQ) in 2011 for curating the Brazilian National Exhibition (Countries+ Regions Exhibition). She created the visual identity of ESPAÇO BRASIL, celebrating the Brazilian year in Portugal 2012/13 and has received other important awards, such as the International Communication Design Awards in 2013, for the MAX-MIX BRASIL exhibition project, for Tropenmuseum in Amsterdam.
Aby has a Ph.D. in Performance Design from School of Communications and Arts, University of São Paulo. In parallel to her professional practice she is a lecturer in Performance Design (2016-2018) and Head of Set and Costume Design at the Fine Arts Faculty of Sao Paulo (Belas Artes). Alongside these commitments she was formerly Vice-President of OISTAT (International Organization of Scenographers, Theatre Architects and Technicians) 2013-2017 and is an outspoken critic of Brazil's current president Jair Bolsonaro and his government's recent policies against the arts and culture in Brazil.
Her most recent projects are focused on the possibilities of creating, exhibiting and performing scenography: More details of previous CENA# activity and Aby's work can be found at: www.abycohen.com
Post Updated 23/08/2019