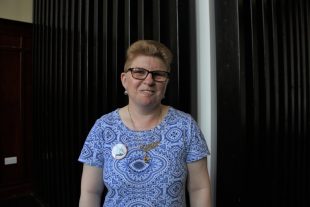 Arran and I did the archives for the Speedway. Speedway has 7 riders on each team. 4 riders go out for each team. It is points based. Racers race on 500cc motorbikes, without brakes. They race home and away with teams down in England. There are two Scottish teams: Glasgow Tigers and the Edinburgh Monarchs.
Ashfield stadium is exciting, noisy with bikes and fans, with the smell of methylene in the air in and dirt in your face as riders pass by. Our mascot, Roary the Tiger has races especially for the kids to get involved in the centre green. It is a family sport. It runs every Friday from April to October.  I have been going to Speedway Shawfield since 1989.
It was important for me to pass on my love of speedway and sharing it with the Glasgow Women's Library made sure it would exist forever more.
I was confident making a speedway archive because I had done a lot of suffragettes work with Donna beforehand. For anyone wanting to create an archive for the Women's Library, that promotes women, I would encourage you to bring it to the Library. The staff are very helpful. See Jenny and Nicola.
To begin the archive we had a box of memorabilia that was dated and wrapped in paper. We took each object 1-by -1 and wrote a description and made a note about its condition. Then once we had finished writing up the archive we moved on to typing on the laptop. It was good to get on the laptop and get a wee bit more experience using one. The last time I used a computer was at school!
Through this experience I learned how to catalogue, do computer shortcuts and I got to teach my tutor, Arran, about speedway. It has been interesting and I would like to do cataloguing again in the future!