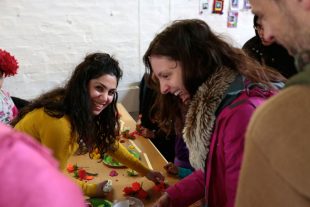 By GWL volunteer Saadia Pirzada
It is not an exaggeration if I admit that GWL gifted me a golden opportunity when Syma involved me in her project of Textile and Activism. I am very grateful and thankful to Syma who trusted in my skills and pushed me to use them in her project in a very loving and encouraging way. No doubt, this project has been proved an encouraging and generating tool for me to raise my confidence. Before joining GWL I felt as if I was in dead zone. Actually, in Pakistan, I was an active person in my school where I have been teaching and used to play a creative role in the school's literary committee. But, in the beginning, I came here in the new country, I could not get a platform from where I might practise again my existing skills I was used to.
At last, I discovered GWL on internet and joined it as volunteer and got this chance to utilize my literary skills in Urdu language to express my views on Textile and Activism project.
This project, really, was organized beautifully in a creative style where we worked with textile artist Paria to design prints on scarves with the slogan words and images on the theme of activism.
Actually, GWL has the similar project which involves the creating animations and soundbites of the suffragettes. We used the same idea to create the soundbites in Urdu.
The respectable ladies of Sakinah Group from Almeezan gave a presentation about the suffragettes in Urdu and English as well. They said something positive and constructive facing mike and lectern for the first time which raised their confidence to a great extent. I also got a chance to practise and reuse my already existing skills when we research to discover the suffragettes around the world and I translated the informative paragraphs about them from English into Urdu.
Actually, my opinion about textile and activism is that such projects should be continued to encourage the women whose fate is still eclipsed and their god gifted abilities are under the cloud. I am really impressed by the ladies of Sakinah Group  how they activated their unrealised and hidden qualities, using them on the fabric in this project.
This project also has proved to be a bridge for me to be a member of Sakinah Group and also to be linked somehow to my Pakistani community.
No doubt, without women's activism, half of the universe is dead. Really, women work as an oxygen for the splendour and brightness of the world.