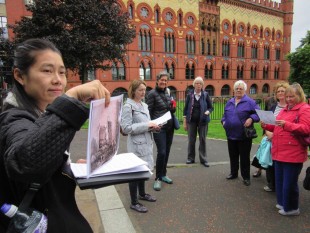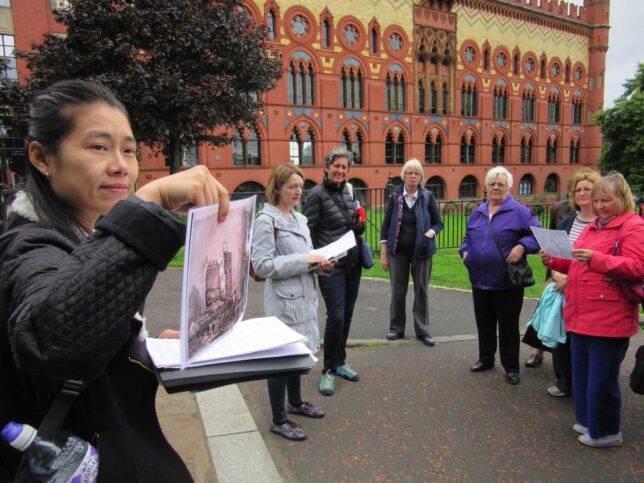 We'd like to grow our team of Women's Heritage Walks tour guides and would love to hear from you if you are interested in women's history, or want to learn more, and who want to contribute to making women's achievements, lives and contributions more visible and better known.
We currently offer six Women's Heritage Walks in different areas of the city (Merchant City, Gorbals, West End, East End, Necropolis and Garnethill).  We usually offer two a month (Saturday or Sunday afternoons) between April and October as part of our public programme, as well as walks for private groups (as and when required).  The guided walks are limited to a maximum of 20 people and there are at least three volunteers (tour guides and an assistant) on each walk.
What is involved?
Please have a look at this Volunteer Tour Guide role description.
Tour Guide Role Descriptor June 2019
Time commitment:
We usually offer two walks a month between April and October, so about one walk every two weeks. This period spans three GWL programmes (Spring- February to May, Summer- June to August, and Autumn/Winter- September to the following January).
We ask that each tour guides helps to deliver at least one walk in each programme, which is equivalent to three walks per year. Each walk requires some preparation, liaison with the Volunteer Coordinator and other guides, and picking up materials from GWL in advance (microphone, images, script etc). This equates to a minimum of 5 hours for every walk you take part in.
We also hold two tour guide meetings each year, usually one in October which is also a celebration of the end of the walking season, and one in the Spring to launch the season
Due to the nature of the role we feel this is best suited to someone who intends to volunteer for at least 18 months (of course, we realise that circumstances can change and do not expect anyone to commit)
If you would like to apply:
Please download and complete our  Volunteer Application Form and return it via email or post.
NB: For this role, we are inviting applications from all women (not just our priority groups as detailed on our Volunteering page).
Like all our women-only activities and events the Volunteering Programme is inclusive of Trans, Intersex, non-binary and gender fluid people.
More information:
If you would like to find out more you are warmly invited to our next Tour Guides meeting on Thursday 11th July.  We will meet at 5.20pm at the Mercat Cross for a short walk through Glasgow Green to introduce some of the suffrage campaigners who feature in our recently launched City East Suffragette Trail.  We will then gather at GWL for tea and cake, and a chance to meet existing volunteers and find out more about what's involved in being a tour guide.  Please let us know if you would like to attend either the walk or the information session by emailing our Volunteer Coordinator Gabrielle (contact details below).
If you have any questions about any of the above please call or email our Volunteer Coordinator Gabrielle Macbeth on 0141 550 22667 or gabrielle.macbeth@womenslibrary.org.uk