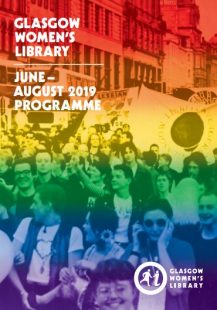 "I long, as does every human being, to be at home wherever I find myself" – Maya Angelou
Our Summer Programme 2019 is now available and you can pick up your copy of the beautiful printed brochure at GWL, take a look on our website, or download a pdf programme to find out all about events and projects happening this season.
Glasgow Women's Library has always been home to diverse voices with home defined as a place that offers security and happiness. This summer we are exploring various notions of home, not least through a long term collaboration with artists Sogol Mabadi and Birthe Jorgensen, who have been working with different groups of women both in GWL and at Platform to think about what it means to be of more than one place. In considering home we're also thinking about those detained in unhomely asylum systems and are pleased to be welcoming Scots Makar Jackie Kay and playwright and comedian Sameena Zehra as they read from the deeply personal Refugee Tales anthology.
Make our home yours this summer at GWL!
We're trying to make our programme as accessible as possible and with this in mind we're delighted to present our programme in large print and audio formats. Below you can download your copy of a large print version of our programme or listen to the audio version. If you have any thoughts or suggestions on these formats, or on accessibility in general, please do let us know.