For the past few months, placement student Katie Fannin has been carrying out a research placement in the GWL archives as part of the Applied Gender Studies Masters at the University of Strathclyde, curating the Women's Words exhibition during her time with us. As her project working on Women's Words comes to an end, Katie reflects on the three key themes which run throughout the exhibition and this year's Open the Door festival – Celebrate, Protest, and Support – in a series of blog posts. Katie will be shining a spotlight on some of her favourite exhibits which perfectly capture the essence of these themes and showcase the vast range of women's words that can be found in the GWL collections.
In this final blog post, I am going to talk about the theme of support. But what do we mean by "support"? For such a commonly used term, it is particularly difficult to pin down one specific way of interpreting it. When looking up definitions, multiple meanings and synonyms appear: to hold up, prop up, keep up, underpin, reinforce, give assistance to, help, aid, foundation, maintenance, sustenance, subsistence.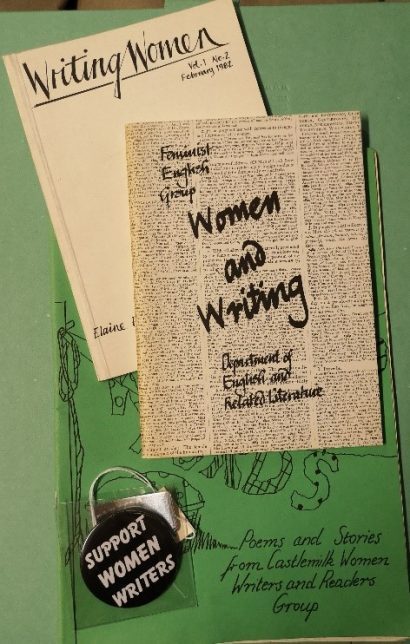 When I think of these definitions in relation to women and women's movements, I think of all the ways in which women have looked out for each other and continue to look out for each other through arts practice. In other words, I think of the ways in which women forge communities of solidarity and care in a society in which many of us are struggling. Support is about the small, intimate ways in which we attempt to make the lived realities of the patriarchy less oppressive. It is about approval and encouragement, about embracing and being actively interested in the success of our projects.
It was a writing group which supported Agnes Owens when she began her writing career in the 1970s. Agnes joined the group in Alexandria, where she shared much of the writing she did at home, primarily just "to get out of the house". But when Liz Lochhead, James Kelman and Alisdair Gray visited the group as part of the University of Glasgow's outreach project, they immediately recognised her talent, and encouraged and mentored her. She ended up collaborating with Kelman and Gray on a book of short stories, Lean Tales, and her dark stories of working-class life have since become iconic in the canon of Scottish literature. Clearly, supporting each other is key to making space for everyone to make art.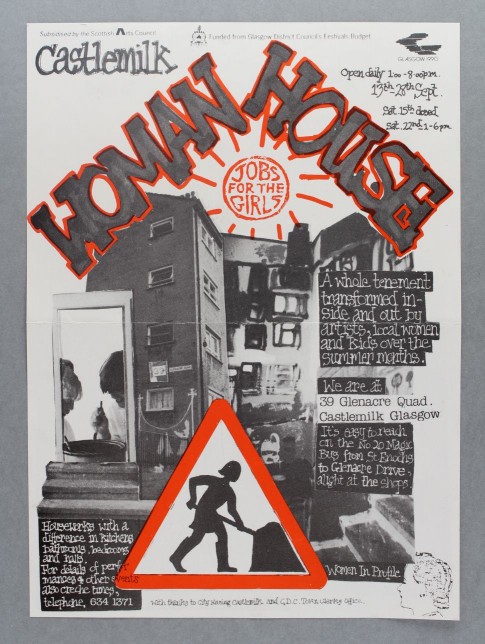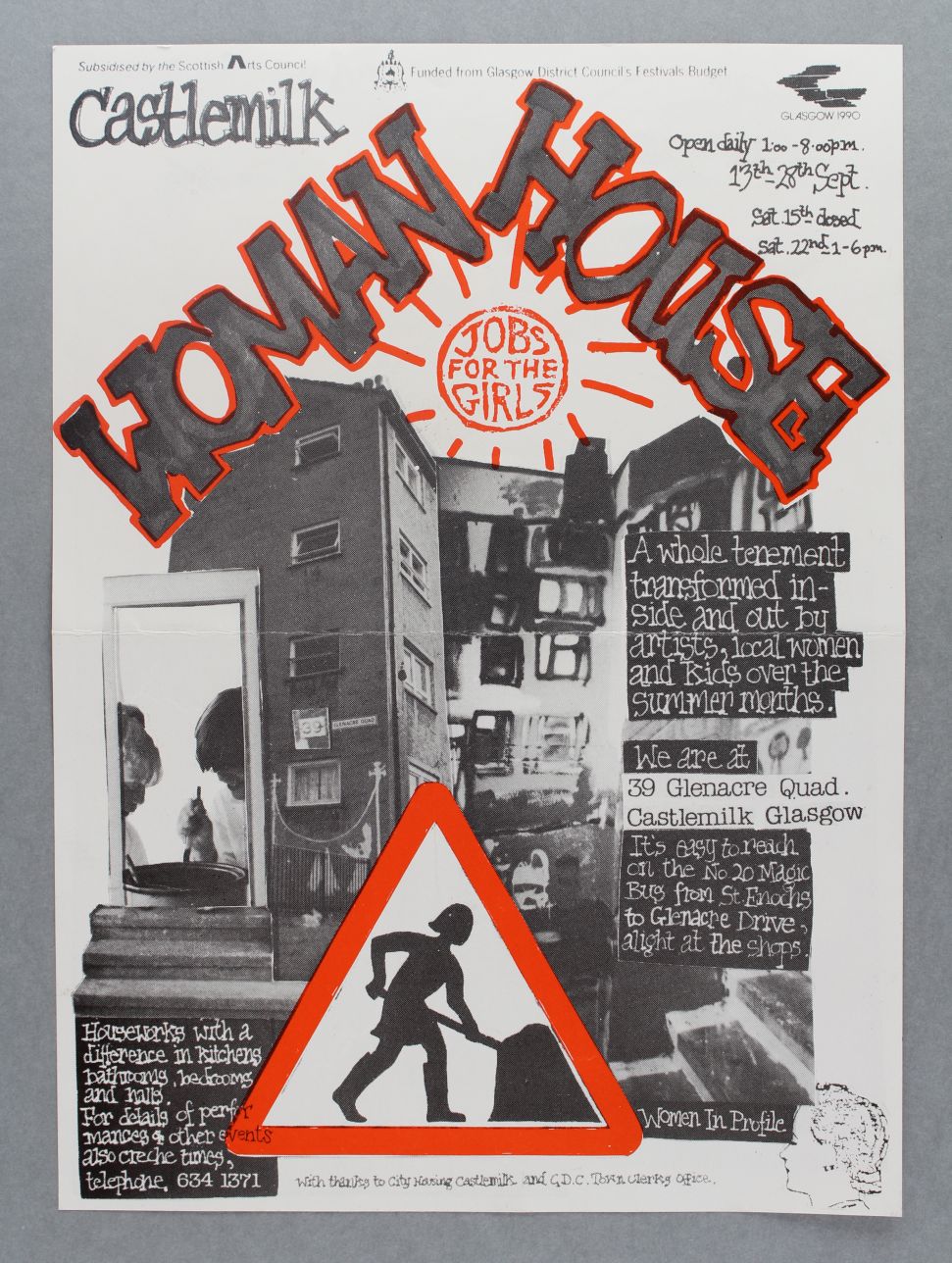 During my research in the GWL archive, I came across many objects which could fit under the broad definitions of support, so I decided to focus more specifically on collaborative support. Collaboration is clearly a hugely significant part of how we support each other – above all, support is about working together. This is perhaps best articulated in the archive collection on Castlemilk Womanhouse, a collaborative artwork project set up by GWL's predecessor Women In Profile to celebrate the creativity of women and children in Castlemilk. The space not only staged exhibitions by artists from across Britain, it also become home to multiple events, workshops and classes for local people, such as guitar lessons, fabric workshops, ceramics classes, and photography classes. This opened the door for local women and young people to take part in making art.
I have also included a couple of issues of Mslexia magazine from GWL's extensive magazine archive collections in the exhibition. Mslexia, which describes itself as a magazine "for women who write", is celebrating its 20th anniversary this year. They have published 81 issues to date, providing women with tips for developing their writing from top authors and advice for progressing in the world of publishing from agents and editors. Publications such as Mslexia deliver vital support for women writers. They provide tailored guidance which acknowledges the barriers to women's creative practices, as well as encourage women to get involved and value their words.
From my research, it is clear that one of the key ways in which women support each other is through words. Whether we celebrate the words of women through events like Open the Door, or we protest inequality through women's poetry, plays, zines, songs and manifestos, women continue to use writing and the arts as a tool through which to support each other. I have attempted to reflect these nuances in the Women's Words exhibition, which has been a fascinating and insightful experience. I hope you enjoy it!
With thanks to GWL volunteer Giovanna MacKenna for her extensive research on Naomi Mitchison, Janet Paisley and Agnes Owens.
Open the Door 2019 will take place on Friday 17th and Saturday 18th of May. You can see the Women's Words exhibition during the library's opening hours until the 1st of June.