For the past few months, placement student Katie Fannin has been carrying out a research placement in the GWL archives as part of the Applied Gender Studies Masters at the University of Strathclyde, curating the Women's Words exhibition during her time with us. As her project working on Women's Words comes to an end, Katie reflects on the three key themes which run throughout the exhibition and this year's Open the Door festival – Celebrate, Protest, and Support – in a series of blog posts. Katie will be shining a spotlight on some of her favourite exhibits which perfectly capture the essence of these themes and showcase the vast range of women's words that can be found in the GWL collections.
For this first blog, I will focus on the theme of Celebrate. To celebrate is to acknowledge and honour something important through an activity or event. Celebration, therefore, is clearly a key facet of life at Glasgow Women's Library. Through Story Cafés, which celebrate the joy of reading and sharing women's words, or Herland evenings, which bring together diverse audiences to celebrate women's influence on cultural change, GWL are always celebrating women's achievements. Open the Door 2019 is no exception. The festival begins by celebrating three iconic Scottish women writers: Naomi Mitchison, Agnes Owens and Janet Paisley.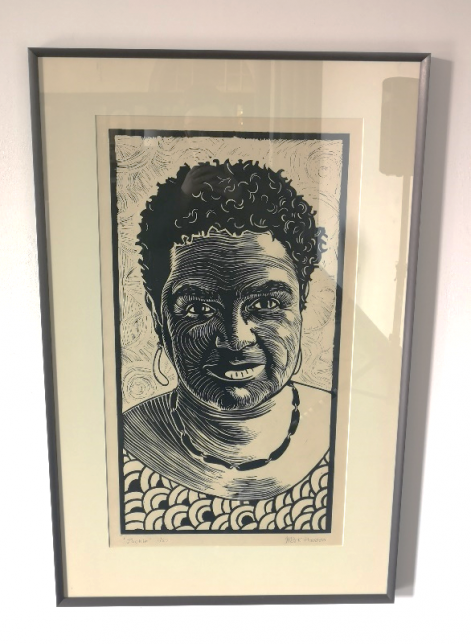 When thinking about how to incorporate this theme into the Women's Words exhibition, I was inspired to look specifically at Scottish women by Karen Stewart's extensive bibliography of Scottish Women Writers of the 20th Century. As part of their summer programme, GWL will be launching their own updated edition of this list on the 4th of July. Nearly 200 Scottish women have been added, including Maud Sulter, visual artist and prolific prose writer, and Tessa Ransford, founder of the Scottish Poetry Library. The sheer breadth and range of talent featured in this collection made it clear that this part of my research would focus on a Scottish context. Luckily, the GWL archives are full of interesting artefacts which pay homage to the success and importance of Scottish women's words – such as Mark Haddon's amazing portrait of Jackie Kay, another iconic Scottish writer and long-term collaborator at GWL. You can see some of her words printed on the wall of the mezzanine when you visit the exhibition!
Similarly, when I think of celebration, I think of Janet Paisley and her dedication to celebrating the Scots language. She was a hugely influential advocate of the language, having grown up speaking it with her family. By 2013 she had stopped writing in English completely and wrote solely in Scots, and for her linguistic activism she was inducted into the Scottish Traditional Music Hall of Fame in 2017. She was also dismayed by the lack of attention given to Scottish women writers. So when a Top 100 Scottish Writers list was published featuring just one women, herself and author Janice Galloway published posters featuring their own all-female selection.
But it was also important to me to celebrate all women who write in this exhibition. I was happy to see objects which celebrate the work of well-known Scottish writers in the GWL collections alongside work from local reading groups and personal poetry collections. One of my favourite objects in this exhibition is the pocket diary of Catherine Traill from 1922. This delicate diary documents the nuances of Catherine's everyday life in the West End of Glasgow. She writes about everything from the weather to starting a new job to going for tea with friends. Objects like these have huge personal significance, (but they also) and allow us to gain a small insight into the lives of women of the past.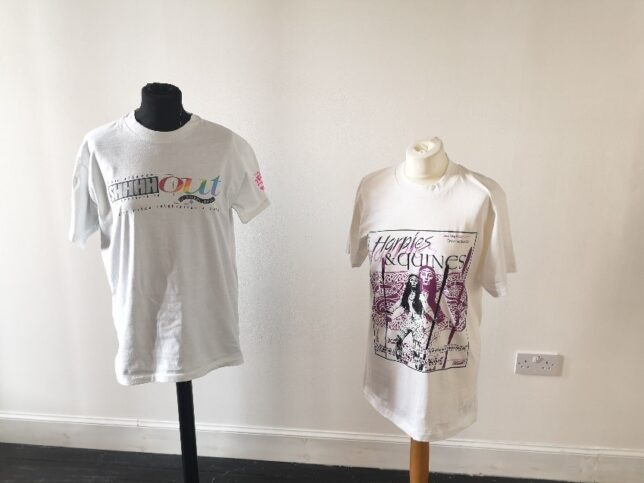 To me, then, celebration is also an important means of amplifying women writers and sharing women's achievements, in a world where these achievements often go unacknowledged. Celebrating is clearly something which is cheerful, happy, and exuberant, but also deeply political. Choosing whose voices to celebrate matters. From Pride parades to women's literary festivals, these celebrations are rooted in a need for different voices to be heard and for visibility. Celebrations are more than just vibrant gatherings – they are also joyous protests against social norms, and an important way of forging solidarity.
With thanks to GWL volunteer Giovanna MacKenna for her extensive research on Naomi Mitchison, Janet Paisley and Agnes Owens
Open the Door 2019 will take place on Friday 17th and Saturday 18th of May. You can see the Women's Words exhibition during the library's opening hours until the 1st of June.