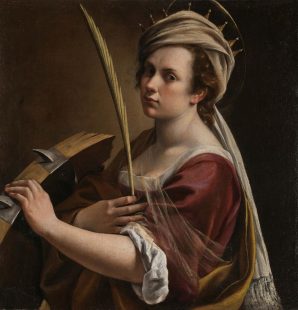 There is a palpable air of excitement here at the library as this self portrait by Artemisia Gentileschi as Saint Catherine of Alexandria is here.  More information about the exhibition can be found here: https://womenslibrary.org.uk/event/artemisia/
Artemisia Gentileschi was born in Rome in 1593.  Despite an eventful life, which included being raped at 17, enduring an arduous subsequent legal trial and bearing five children (only one of whom survived into adulthood,) she became one of the most celebrated artists of her day. She was the first woman to join the artists' academy in Florence.  More about Artemisia and this beautiful painting can be found here: https://www.nationalgallery.org.uk/paintings/rare-self-portrait-by-artemisia-gentileschi-now-on-display
Both Artemisia's story and that of Saint Catherine are inspiring.  Saint Catherine of Alexandria, a 4th Century martyr was sentenced to death for her religious beliefs.  She was tied to a wheel studded with iron spikes but was miraculously freed by angels.  In the painting she holds a palm frond, a symbol of her martyrdom.
We have made this wonderful painting the prompt for #FlashFictionFriday this week.  There is so much here from which to take inspiration we feel your stories will be sensational. If you are new to #FlashFictionFriday, this is an opportunity for you to use our prompt to inspire a very short tweeted story (up to 240 characters.)  Your tiny story does not need to reference the prompt directly – it is there to stimulate your creative thinking!  Here are some tips for writing your story:
be brief – cut right to the action and make every word count
your story can hint at a much larger backstory – the reader will fill in detail which is not explicit
flash fiction can be seen as an iceberg – only the tip visible and a much larger story going on underneath
be bold and ambitious – a powerful story can be told in just a few words
tweet us your story of up to 240 characters #FlashFictionFriday remembering to tag us: @womenslibrary
if you are not a twitter user you can e-mail your story to info@womenslibrary.org.uk
We look forward to reading all your Artemisia/Saint Catherine of Alexandria stories.  If you can – come in and meet Artemisia in person before Tuesday 19th March.  She is stunning.