We are again looking for a talented, positive and engaged emerging visual communication designer to join us for a residency for 12 months. This is a voluntary position, which we imagine is suitable for recent graduates (within the last year) or someone with equivalent experience. We have run this opportunity for three years previously, and you can read about previous VCR's experiences here.
Background: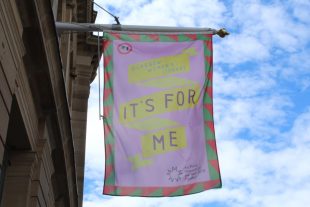 Following an epic 2018, we are looking forward to another packed year and we need high quality, inspiring, innovative visual communications to continue to expand our audiences, reach diverse learners, visitors and researchers locally, nationally and internationally, and deliver a vibrant and accessible programme of talks, exhibitions and learning activities.
This year already promises excitement and delight from start to finish, from exhibiting a rare self-portrait by the most celebrated female artist of the Italian Baroque, Artemisia Gentileschi (1593–c.1654), in partnership with the National Gallery, to the third GWL Open the Door Festival. We'll be developing and launching a new LGBTQI+ Heritage Trail and kicking off the year with an exhibition by Ruth Barker & Hannah Leighton-Boyce which premiered at Castlefield Gallery in Manchester last year, the launch of which features a return to GWL by award-winning writer of fiction, poetry and plays, Jackie Kay.
Role descriptor:
Duration: 12 months.
Hours: 7 hours per week, flexible working pattern
10 months (March – December 2019) supporting GWL publications, literature, design and communications, followed by a 2 months (January – February 2020) residency working on a personal project which responds to GWL's collections, programme and space.
There is no fee available for this residency but we will offer the VCR first refusal on any new paid visual communication work which comes up at GWL during the course of the residency. In previous years this has been around £3,000. This work is not guaranteed as it depends on external factors such as funding, partnerships etc.
What we offer the Visual Communication Resident (VCR):
Our goal is for the residency to enable an emerging Visual Communication designer to develop their practice, make new contacts, build a portfolio, try new ideas and grow their confidence. To this end we offer:
Workspace for two days a week (or more) including desk space, access to Wi-Fi, printer, scanner, graphic editing software, cameras and audio recording equipment on site.
First refusal on any paid design work which comes up at GWL during the course of the residency (which should be carried out in addition to the 1 unpaid day per week)
Opportunity to highlight your wider practice and portfolio on our website
Credit of the VCR's work in every instance on whatever platform
Access to any training delivered at GWL
GWL will actively promote the VCR in whatever circumstances arise for paid work with partner organisations and projects.
Experience of working with a team of practitioners from varied fields (adult literacy, information management, museums, volunteering, community development).
Experience of embedding Equality, Diversity and Inclusion, and Environmental concerns into your practice.
Regular support and supervision
A reference
Travel expenses, up to £5 per day
We are looking for someone with the following skills, qualities and experience:
Demonstrable ability to work to a brief and to deadlines
Ability to work independently and to use initiative
A commitment to GWL's values, aims and objectives
Skills relevant to the design of publications and promotional materials.
An interest in learning about GWL's collections, programme and work, and responding to this at the end of the residency through a merchandise design or other personal project.
The VCR will also be required to compile a short report at the end of the 12 months reflecting on the residency.
How to apply:
To apply please email the following by 5pm on Thursday 31st January to info@womenslibrary.org.uk with the subject "Visual Communication Designer" (please do not exceed 4MB):
your CV
5 to 10 images of your work (in PDF format),
a cover letter (no more than one page) outlining:

why you are interested in this role and what you hope to gain from it
what skills, experience and qualities you want to bring to GWL.
Applicants shortlisted for interviews will be notified by 5pm on Friday 1st February and informal interviews will be held on Tuesday 5th February 2019.
This role is for women only. We particularly welcome applications from women from our priority groups:
Women who live in our neighbourhood (G40 postcodes)
Women who identify as having a disability, long-term or chronic health condition, sensory impairment, cognitive or learning disability or mental health condition
Women of colour or women from an ethnic minority.
You can find out more about accessibility at GWL here.
If you have any questions about the role or any of the above please email the Volunteer Coordinator Gabrielle Macbeth gabrielle.macbeth@womenslibrary.org.uk