Kirsty became our first Visual Communication Resident in 2015 and has continued to work with us ever since.  Here she shares some of the projects she worked on and what the residency meant for her. You can see more of Kirsty's work at www.kirstymcbride.co.uk
Being Communication Designer in Residence at Glasgow Women's Library was a fantastic experience. Not only was I given the chance to work on a variety of different projects, I got to work with a great team who were supportive and really open to my ideas throughout the whole process. As well as being able to add some really interesting and unique projects to my portfolio, I have been able to discover how my own design practice can work with and help organisations in interesting ways.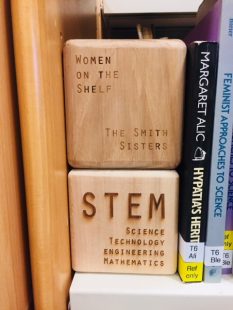 One of my favourite projects that I worked on was 'Women on the Shelf'. I really enjoyed this project as I had the opportunity to speak to some of the people who had sponsored shelves or sections of the library in the name of a woman who was influential to them. To hear about how much it meant to them to have this object in the library was really special. In the early stages of this project it became clear that it was important that these markers or blocks to go on the shelves, would stand out from the books but not compete with the visual busyness of the bookshelf. I came up with the idea of making them cubes that could be stacked, with the library section on one block and the Women on the Shelf dedication on the other. This meant that on shelves that had yet to be sponsored there would be empty spaces which would show people that they had an opportunity to fill it by sponsoring a shelf. Once this idea had taken shape we then worked with Maklab to have the text laser etched onto wooden blocks. By sourcing different types of wood for the blocks it meant that every block was unique, adding to the specialness of these markers. I also had the chance to go to Maklab and etch some of the blocks myself which was fun. I was really happy with the final outcome of this project and it was great being able to create something that would mean so much to people and of course help support GWL.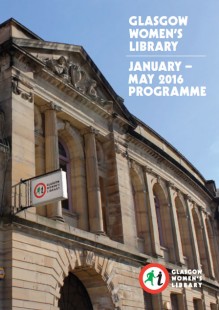 Another project that I worked on during my residency was redesigning the events programme. The first couple of programmes that I worked on were made using the original programme template, and updating slightly. This was not only a good way to see what designs were already in place when I started my residency, but meant I could learn more about all of the different things the library does. This helped greatly when it came to redesigning the programme, because I knew through experience what needed to be included. In designing the new programme I felt it was important to keep some elements from the previous versions such as colours and some of the typefaces so that it would still be recognisably GWL but update the layout and format of the programme and give it an overall new look which I feel I achieved.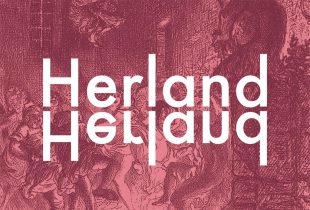 I also had the chance to work on the new GWL event Herland. As well as being able to work on the designs for Herland I also took part in early meetings for the event and helped to work out what was going to be involved. It helped being a part of these discussions when it came to creating an identity as I had a better insight into what the event would become. It was important that the identity was strong and recognisable and would be separate from the GWL identity, although it did have to be able to work alongside it. It also had to be versatile so that it could work with the different themes of the events so in developing it I made sure to test it in multiple scenarios and using different themes. Having tested it out in this way and also attending the first ever Herland in January where I saw the identity in action, I feel confident that it will work well for future events. I can't wait to see the identity working with the future themes of Herland events to come.
These three projects are just a few of the things that I had the opportunity to work on whist I was Communication Designer in Residence. Some other projects included creating an exhibition identity and publication for 'Sex Between the Covers' that was a part of the Sexology season, designing leaflets for GWL's 'Be Our Friend' initiative, a publication for GWL's 'Women Making History in West Dunbartonshire' project and towards the end of my residency worked on a self-initiated research project into the library's archive and museum collection where I had a lot of fun looking through the poster collection. This is a project that I'm really looking forward to continuing even though I have now officially ended my residency. This project is an example of how I will be continuing working with GWL in the future, something I am really grateful for and looking forward to. It has been a wonderful experience being able to set up and bring new ideas to GWL and to now have the chance to continue building upon the things that I have done during my residency.
I have had a brilliant time during my residency at GWL. It gave me the opportunity and freedom to work on lots of different and important projects and I wouldn't have had the chance to work on the range of projects I have done in the past year had I not done this residency. The support I received was great, with regular check ins to discuss how individual projects were going and ideas for upcoming ones. Looking back over this year I feel as if I have managed to contribute something new to the library and I also feel more confident in my own abilities as a freelance graphic designer. I will miss working in the library every week as it is a wonderful and inspiring place to be in, and I am sure I will be back as often as I can!