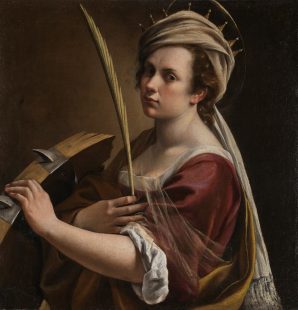 In July 2017, the National Gallery, London acquired a recently discovered, rare self-portrait by the most celebrated female artist of the Italian Baroque – Artemisia Gentileschi (1593–1654 or later).
Today (Wednesday 19 December 2018) Self Portrait as Saint Catherine of Alexandria, an oil painting from about 1615–17, went on public display in Central Hall of the National Gallery, following five-months of conservation treatment. You can view a behind the scenes Conservation film story on the National Gallery's website.
While unveiling the newest addition to the national collection, the National Gallery also revealed some exciting plans for her future that we're delighted to be a part of.
From March 2019, Self Portrait as Saint Catherine of Alexandria will undertake a pop-up tour of unusual and unexpected venues (not all of them galleries or museums) across the UK. Her 'grand tour' will start at Glasgow Women's Library on 6 March (where she will stay until 19 March), just in time for International Women's Day (8 March 2019).
In 2020 (April – July) the National Gallery will stage a major monographic exhibition of the work of Artemisia Gentileschi, the first ever in the UK. It is hoped the show will bring more than thirty-five works from around the world to London to present a highly selective, survey of her career.
About Artemisia Gentileschi
Artemisia Gentileschi is considered one of the most accomplished painters among the followers of Caravaggio, whom she must have known personally through her father Orazio. In an era when female artists were not easily accepted, she was the first woman to become a member of the Accademia del Disegno in Florence and had a truly international clientele, including royalty.
Artemisia faced challenges in both her professional and personal life: she was raped by a fellow painter and was subjected to gruelling questioning and physical torture during the trial that ensued. Her biography has long overshadowed her artistic achievements, but today she is recognised as one of the most talented painters of her generation.
Director of the National Gallery, Dr Gabriele Finaldi says, "This is the first painting by Artemisia to enter a public collection in the UK.  A superb work by a major artist of the European Baroque, it goes on show at the Gallery following conservation treatment and just in time for Christmas. I am delighted that it will be the focus of a national tour in 2019 and a major exhibition in 2020."
The only two other known easel paintings in this country by Artemisia Gentileschi are Susannah and the Elders in the Burghley House Collection, Stamford and her Self-Portrait as an Allegory of Painting (La Pittura) in the Royal Collection.