With the holidays just around the corner, GWL volunteer Jenn shares some of her favourite tips and tricks for a more sustainable and eco-friendly holiday season.
The unwrapped life
It will come as no surprise that standard wrapping paper is not environmentally friendly and in most instances not even recyclable. Statistics indicate that around 227,000 miles of wrapping paper are thrown away every year after the holiday season. Just to put that amount into perspective, that's approximately 40 trips to Indonesia from GWL's location in Glasgow.
If at all possible, we would encourage trying to find a local retailer or using substitutes that you could either make yourself or already have around your home. Pre-loved gift bags and tissue paper, brown paper roll as well as newspaper make great alternatives to standard wrapping paper. Or if you wanted to get a bit more fancy, why not try sourcing silk scarves from your local charity shop and wrap gifts in those?  You don't need to sacrifice style or appearance of your prezzies by using these eco-friendly alternatives either just have a look at some of these beautiful packaging ideas. Just get creative!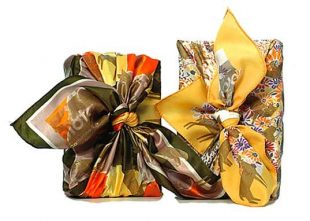 Sustainable gift-giving
Not sure what to get people for the holidays? First, don't confuse the price tag with meaning! Second, if you have time, consider making something homemade to gift to someone. Last year I received knitted pot holders and they were one of my favourite gifts because it showed that my friend thought of me and took the time to make something special. In an increasingly busy world where everyone is trying to maximise their time, it's nice to know that someone thought of you and slowed down to create something special.
If DIY sends a shiver down your spine then you need to look no further for sustainable gift ideas than GWL! We can be your one stop shop if you are looking for unique gifts. From pins to pillows and T-shirts to tote bags, we've got you covered! If creating a shared experience as a gift is more your style then why not consider booking a place for you and your gift receiver on one of our many Women's Heritage Walks?
No matter what you decide on there are plenty of ways you can get creative with your gift-giving and create sustainable, eco-friendly gifts with meaning.
Oh Christmas Tree, Oh Compost Feed
Nothing beats the scent of fresh pine needles in the home during the festive period. Most of us are still bringing fresh Christmas trees into the home and it is estimated that around 250 tonnes of Christmas trees are thrown away after the holidays.
But how about trying to make an alternative to a tree? We've given the book tree a go in the past and it's a perfect way of creating a beautiful tree sculpture with just the books from your shelves!
If you simply can't live without a real Christmas tree (I know I can't…) then perhaps consider turning your tree into compost or mulch for your garden after the holidays. A surprising amount of your holiday waste can be composted, for inspiration and guidelines you can turn to websites such as 'Less Waste', 'The Spruce' and 'Gardening Know How'.
Go meat-free
The meat and dairy industry are responsible for more emissions than all the world's planes, train, cars and boats put together. Here at GWL we try and spend every Monday going meat-free with our Meat Free Mondays and we'll also be giving it a go during the holidays. So why not try to convince your family or friends to have a meat-free holiday season in order to cut down on your environmental impact? This might seem like the most daunting of our advice but it is actually one of the easiest. You cannot turn anywhere this year without encountering 'plant-based' alternatives for normally meat-centred dishes. The usual turkey or roast can be easily replaced by a delicious nut roast or wellington. I had my first meat-free Christmas last year and was surprised at how little I missed the meat. With all of the other side dishes flying around and buried under cranberry sauce and gravies you tend to forget what is actually on your plate!
If you feel like you couldn't possibly forgo meat for the holidays then perhaps try eating less of it throughout the rest of the month especially when attending end of the year and office parties. A little bit goes a long way!
Enjoy the festive season
All these little tips and tricks are meant to assist you in making more eco-friendly decisions over the festive period; it isn't a checklist! Regardless of what approach you are taking to the festive season, it is of the utmost importance that you do what is right for you, your health, your budget and your overall well-being. The holiday season can be a source of significant stress for many; therefore, placing limitations on things that might give you pleasure (like that Christmas roast) is not necessary. Make this festive period an enjoyable one and if you can help the environment out along the way then that's a win for everyone!