The festive season is fast approaching and we've put together a list of the perfect ethical presents that you can buy from your favourite library, museum and archive.
All the items that are sold from our shop, both online and in the library, help to support our life-changing work. Not only do we celebrate women's lives, histories and achievements through our lending library, museum and archive but we also actively support women from all walks of life across Scotland. Through our many learning programmes, and projects focusing on Adult Literacy and Volunteer Development, we have helped women to stretch themselves, try new things and achieve far more than they ever imagined.
A gift purchased from GWL is also a gift to the many different women who benefit from our projects and services every day.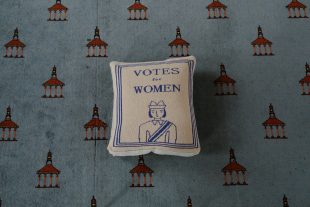 Donna Wilson's Votes for Women Book Cushion has been inspired by the treasures lining the shelves of the Glasgow Women's Library, and by the fight of the women's suffrage movement within the UK. Its vital role in securing the Representation of the People Act enabled all men and some women over the age of 30 to vote for the first time exactly 100 years ago.
Each cushion has been knitted in Scotland from 100% lambswool before being hand-finished in Donna's London studio workshop. Commissioned by Panel exclusively for Glasgow Women's Library.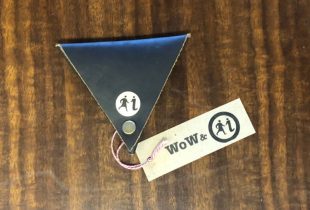 These purses are handcrafted by WOW exclusively for Glasgow Women's Library from recycled aeroplane seats (cabin size friendly!). WoW is a collective of Self Reliant Group members from across Scotland, united in their desire to create opportunities for themselves and their local communities.
Give the gift of history with vouchers for our popular Women's Heritage Walks. Each tour gives a unique and inspiring insight into the hitherto unsung women of Glasgow and the vouchers are valid for a whole year.
Graphic designers Kaisa Lassinaro and Maeve Redmond have designed Reading List, a series of t-shirts that reference books, which they have selected, from the Glasgow Women's Library catalogue. All of the books (and many more!) are free to borrow from Glasgow Women's Library and include titles such as Sisterhood Is Powerful, The Politics of Housework and Gender Trouble.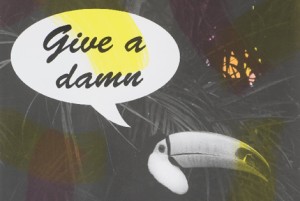 Prints and Publications, £2-£660
We don't just like to collect items for our library, museum and archive; here at GWL we're also passionate about commissioning up-and-coming and established talents. Purchase a print from our 21 Revolutions project with works by Ciara Phillips, Jacki Parry or a unique, limited edition silk scarf from Ruth Barker. Or buy something for your bookshelf with zines, our book of art and new writing, or the untold stories of migrant women in Pollokshields.
Please make sure to get all Christmas orders in before Tuesday 18th December to ensure delivery before Christmas (if you're ordering from outside the UK, please contact us about delivery times).