We are looking for volunteers to join our team in the new year.  Do either of the following roles sound like they might be for you?
Seeing Things Volunteer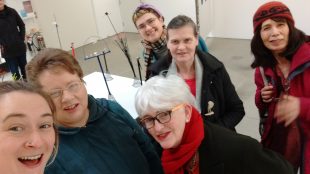 Do you feel that the arts should be accessible to more people?  Do you feel that art by women should be better known? Would you like to learn how to organise and lead groups of women to see exhibitions, films or other art forms showcasing women creatives' work?
We're offering training in January and February for a small group of new volunteers who will organise, promote and lead trips for small groups of women to cultural venues in Glasgow such as the Kelvingrove Museum,  Tramway, the CCA or the Glasgow Film Theatre.
Seeing Things Volunteer Role Description
Front of House Volunteer
Do you love meeting people and making them feel welcome? Would you like to help us ensure that all visitors find what they are looking for when they visit GWL?
Our Front of House volunteers are famed for the warm welcome they offer new and returning visitors, and we're looking for volunteers to join them to help staff the front desk during our opening hours (Our opening hours are 9.30am-5pm on Monday, Tuesday, Wednesday, and Friday and 9.30am-7.30pm on Thursday. We are also open on Saturday from 12pm to 4pm.) We'll provide full training and plenty of ongoing support from existing volunteers and staff.
Front of House Volunteer Role Descriptor
What we're looking for
Above all we are looking for volunteers who:
Share GWL's vision and values
Are familiar with our work, through borrowing books, attending events, groups or exhibitions
Are flexible, friendly and fun
Have a positive outlook and optimism
Value others contributions and views
Are supportive team members
And who are interested in developing:
Communication skills
An understanding of the GWL team structure and function
An understanding of feminism, the importance of 'women's space' and the history and uniqueness of GWL
A willingness to learn
A desire to make their experiences of working as enjoyable as possible
An awareness of equalities issues: racism, homophobia, disability issues, mental health issues, the impact of violence against women etc.
Please don't worry if you don't have experience of these types of role. All we ask for is enthusiasm for our work and an eagerness to try new things.  We'll provide training, support and are always keen to find out what we can do to make it possible for you to give your best.
Who can apply
Following a review of our recruitment policy we currently are only accepting new applications from:
Women who live in our neighbourhood (G40 postcodes)
Women who identify as having a disability, long-term or chronic health condition, sensory impairment, cognitive or learning disability or mental health condition
Women of colour or women from an ethnic minority.
Like all our women-only activities and events the Volunteering Programme is inclusive of trans and intersex women, as well as non-binary and gender fluid people who identify in a significant way as woman or female.
We also prioritise applications from women who have already visited us and are already familiar with our work, through borrowing books, attending events, groups or exhibitions.
How to apply
Please visit the Volunteer page of our website for information on who can apply and to download an application form.
If you have any questions about either of the roles or the application process please call our Volunteer Coordinator Gabrielle on 0141 550 227 or email her at Gabrielle.Macbeth@womenslibrary.org.uk  She's always happy to answer questions.