This week on my adventures of Glasgow Women's Library I was able to attend the 'First Waves Exhibition' launch where artist Scarlett Crawford spoke about the work she has undergone for her photography project for parliament. The work is focused on looking at the impact of the Race Relations Acts from 1965 and how they have changed and impacted lives today. Scarlett's work was timed to coincide with the 50thanniversary of the 1968 Race Relations Act, with an artistic approach and the use of photography to show that these acts, as Alison McGovern, MP states need to be 'continuously nurtured and developed and never taken for granted'.
I will not go into too much detail about the exhibition itself as it can be viewed at the library until 20thNovember 2018.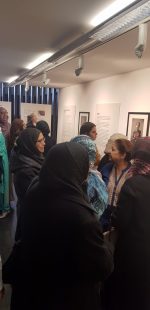 During the launch, however, I was able to hear Scarlett speak about her project which she is incredibly excited and passionate about. Scarlett travelled to many cities – Cardiff, Leeds, Liverpool, London, Nottingham, Swansea, and of course Glasgow – capturing the many feelings and emotions of women in stunning photographs which can be seen within the library. It is truly such a privilege that the Women's Library is able to display this exhibition for Scarlett, who describes the library as 'empowering' and stating 'there's nothing like it in London' – but we all know London wishes it was Glasgow!
Within her workshops Scarlett provided women with four objects that could accompany them within their photos. The objects included:
A blub – representing light optimism and hope
Red Ribbon – representing blood ties, community and unity
Parchment – representing law, legislation and government
Pen – representing education, action and protest
The women themselves were allowed to choose which objects they wanted in the photos with them and chose what action they wished to display with them also. In discussing this with Sahira Zafar, a willing participant in the project she stated that the use of the ribbon hiding her eyes, and throwing the parchment represented the fact that 'laws are there, but people choose to ignore them'.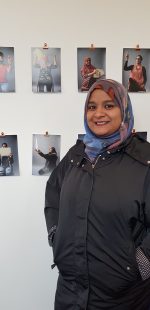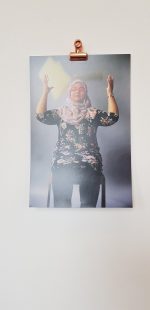 As you can see from the images, the library was absolutely thriving with women excited and liberated by Scarlett's work. It is amazing collection that will soon be shown at Westminster with fantastic art, but also capturing the importance upon communities of the Race Relations Act.
Visit the library before it's gone. You won't want to miss it!