What the Suffragists Did Next:  how the fight for women's rights went on.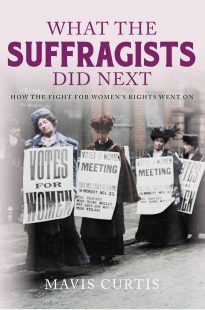 By Mavis Curtis
(to be found in the History section at GWL:  H7.1 Cur)
Loved the title!  Highly recommended
I assumed this book would join the other books on Suffragettes on the GWL shelves.  However, this book is different..  It is well researched, academic and eminently readable. Mavis Curtis explores the work of eight women who helped to promote the cause of women's rights and social equality.  The women documented here reflect in their work and personal experiences the changes to women's lives and feminism during the twentieth century. The women's lives and work encompassed co-operatives, education, church, law, politics, medicine and literature.
In 1918 a post-war Government  Act  granted the franchise to women for the first time, so, women were included in the political process.  However, universal suffrage was still a long way off.
This book does not document the lives of suffragettes, but rather searches and illuminates the work and experiences of suffragists involved in and who evolved from the National Union of Women's Suffrage Societies (NUWSS), from the outset under the leadership of Millicent Fawcett.  The suffragists had been active since the 1850s and had a substantial network of branches across the whole country.  Their constitution provided the foundation for the other women's movements that came after them, such as the Women's Institute and the Townswomen's Guild.  Mavis Curtis draws on many examples of the early voicing of feminist and equality issues yet to come.
A well-researched book, written with great warmth and insight, each of the eight women stands out as a pioneer, an adventurer, a heroine.  With a real bonus for researchers – a Timeline, bravo!
Anna Forrest
GWL volunteer