GWL is delighted to announce that we were gifted another German book for our international collection. When Morag visited the Women's Cultural Museum in Fürth, Germany, in May, she received a copy of Schicksalsfäden: Geschichten in Stoff von Gewalt, Hoffen und Überleben (Threads of Destiny: Women's Histories in Fabrics Relating to Violence, Hope and Survival). The Woman's Cultural Museum of Fürth has been active since 1989 and since then has  had several exhibitions which included quilts and plaids created by women from different continents.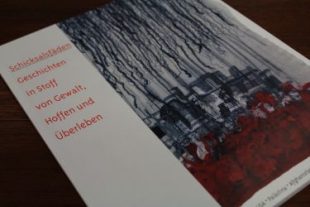 The book depicts a selection of exquisite tapestries, varying widely in style. Some of them relate to the artists' cultural heritage, such as embroidery from Palestine or depictions of black African women, or illustrate stories in a way that resembles blankets for children. Others stand out through slogans and letterings, some play with colours in an abstract way. The use of different materials, such as yarns, tulle, matte and rough or fine and smooth fabrics and intriguing batiks all lay out the individuality not only of the endlessly faceted practice of tapestry making but also of their creators themselves. Each tapestry in the book comes with the details for the particular artwork and an explanatory text about the project or the creator.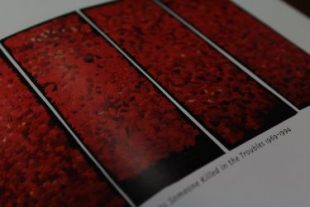 As the title suggests, the tapestries retell stories of violence and longing for survival, which in most cases are linked to forced migration. One of the most outstanding pieces seems to be rather simple and without a deeper message at first glance. It consists of a conjunction of red mending. However, as you focus on it in more detail, you will see that all patches are a slightly different shade of red and you slowly start questioning whether the work by the artist Irene MacWilliam may symbolise something. And indeed, it does! Each red patch stands for one person who lost their life during the so-called Troubles in Northern Ireland between 1969 and 1994. The different shades artistically bring forward the individual lives taken but red is the common ground in which the victims are buried.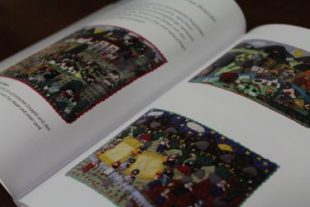 While this may sound very depressing, there are also artworks alluding to hope. The Huayacán Women's Group designed an entire collection of tapestries relating to their stories of flight from different parts of Peru and their arrival in Huayacán. How they lived shortly after their arrival, what they achieved for their communities, their dreams, the practices they would keep up and much more. The tapestry collection is highly detailed in the depictions of their rural settings and despite the negative connotation of the motif of flight, the artwork is highly colourful and seems all around very happy. My interpretation is that the Women's Group is very happy about their decision to flee in retrospect, despite uncertainty and hardships endured. A truly mesmerising collection.
To sum it up, Schicksalsfäden (Threads of Destiny) is an outstanding book capturing two decades of even more outstanding international artists and intercultural collaborations. It turns the gradually dust-gathering plaids and quilts into electrifying texts about individuality but also unity in destinies, race, gender, and hardship. The potential language barrier should be disregarded completely since I feel like one can gain a lot by just looking at the tapestries.
You can now find the book in our library under the label D9 Fra. Please feel free to ask a volunteer at Front of House to help you find it.
Jeanette is an Erasmus intern at Glasgow Women's Library and involved in the National Lifelong Learning Project and Story Café, among other projects of GWL. She started in April and will stay until early October. Her internship here is part of her studies of English and Gender Studies at the Saarland University in Germany, where she grew up, and is supported by Erasmus.