As someone who lived in Glasgow's East End while studying Social History at Strathclyde, it comes as no surprise that I became engrossed in the history of the area. Then, the Women's Library opened in Bridgeton and all was right in the world. For 'Glasgow Open Doors Day', a heritage walk was put on for people from all over to be immersed in the hidden histories of the East End's extraordinary women (and one extraordinary cat).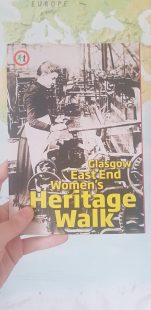 The walk was a captivating two hours long, promising to inform visitors of women's 'achievements and struggles, and the radical nature of the area which gave birth to them', and it certainly delivered. Guides Kath, Beverly, Kirstin and Mary Alice have cleverly researched and delivered history of women which – and I can say this confidently – many of Glasgow's own aren't aware of. Now, I will tell you some interesting history I learned about amazing women whilst on the walk, but to gain a complete and insightful understanding to the hidden history of Glasgow's women, I suggest picking up a copy of Elspeth King's ground-breaking book, The Hidden History of Glasgow's Women. I myself have a copy on order, but it is available to loan through the GWL.
Suffragettes. How can we speak of women's history, without mentioning the suffragettes? Demonstrations of women from all over Glasgow rallied in numbers of up to 14,000 on our very own Glasgow Green in 1917. These demonstrations included influential women such as Agnes Dollan, Helen Crawfurd and Mary Barbour who also played enormous roles in setting up the Glasgow Women's Housing Association and the Women's Peace Crusade, the very movement that drew out thousands of women to protest on the Green itself. Glasgow Green has an incredible amount of history attached to it, and much of that history involves women. There were demonstrations and protests, but there is also the history of the drying green, Templeton's carpet factory, and as we walk to the Winter Garden's we learn about Sister Smudge.
Chief rodent of operative of the People's Palace and only cat to be a full member of the GMB union.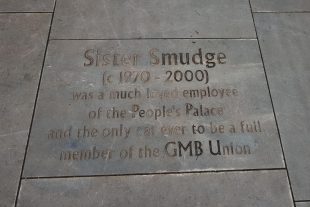 That's right. This heritage walk celebrates ALL successful females. Cat or human.
Further we walk, arriving at the vibrant Barrowlands. Here we learn of some 'witchy history', the 'rags to riches' tale of Maggie McIver who is responsible for the Barrowland Ballroom all Glaswegians love, and of Betty McAllister. Betty owned a seafood shop in the Barrowlands, and being the true Scot she was, organised a protest in honour of Margret Thatcher's visit to Templeton's where she told the PM that she could "stick the poll tax where the sun don't shine!". A true activist and inspirational women, Betty was recognised with a British Empire Medal in 1980 and named Scotswomen of the year in 1984.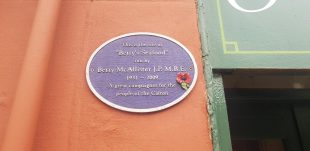 Now, how many Glaswegians know that St Enoch centre is named after a woman? King cleverly gave her book the subtitle 'The Thenew Factor'. What does this mean, and why is it relevant to the St Enoch centre? Thenew was a 6th century princess who survived banishment, rape, and two murder attempts, or so the tale goes. She gave birth to Kentigern (St Mungo), founder of Glasgow. Thenew's chapel and well stood where the St Enoch centre stands today. The well was said to have healing properties, and metal offerings were inserted – some in the shape of body parts – into a tree beside it. One theory is that these offerings were given by women, perhaps seeking help with pregnancy. King, therefore, gave her book this subtitle to symbolise how easily women have been written out of history.
I have given you a few snippets into some of the history learned on this walk, but you are welcome to pop into the GWL to gain some more information into women of the East End and pick up a map of the walk. You can also download an audio tour of the walk and guide yourself.  Furthermore, if you were not lucky enough to be on this heritage walk – don't worry! There are another five to look forward to and the library even hand out 'Stamp as you Stomp' loyalty cards.
I'll look forward to attending and writing about the next event I attend at GWL. If anyone has any questions about any events at the library, don't hesitate to get in touch.
Thanks for reading,
Ashley