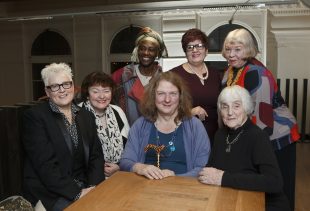 Nominations are now officially open for the 'Outstanding Women of Scotland' 2018 awards.
Celebrating exceptional women from all walks of life and Scotland's unsung heroines since 2015, the 'Outstanding Women of Scotland' programme is a partnership between the Saltire Society and Glasgow Women's Library.
The programme sees ten women inducted annually in to the 'Outstanding Women of Scotland' community. Previous inductees include Annie Lennox, Nicola  Sturgeon, Jackie Kay, Dame Sue Black, Amal Azzudin and Sarah Jane Brown.
Commenting on her induction Sarah Jane Brown said:
I thank the Saltire Society for this honour of including me amongst a list of wonderful women in Scotland from all walks of life and such breadth of achievement. If you can see it, you can be it.
From 3oth July 2018, we will be gathering nominations of women from across the country from diverse backgrounds and areas of expertise, from the public for induction in 2018. Nominees must be living, contemporary examples of Scottish women who have made a significant contribution to Scottish culture and society.
You can propose your outstanding woman by completing an online form at the Saltire Society website by the 15 August 2018. Check out the hashtag #SaltireWomen on social media and please do share.
The 2018 Outstanding Women of Scotland will be announced at a ceremony on Saturday 20 October 2018 held at Glasgow Women's library, which will see each of our inductees presented with a limited edition print by an emerging female printmaker.
Commenting on the launch, Saltire Society Programme Director Sarah Mason said:
 By championing the women of Scotland, we celebrate the unsung heroines of this country alongside those who have risen to prominence in public life.  The 'Outstanding Women of Scotland' campaign celebrates everything Scotland's women have achieved, the huge contribution they make to Scotland's vibrant and diverse cultural life and the inspiration and examples they set for the next generation. We encourage everyone to nominate and are excited to see what this year brings.