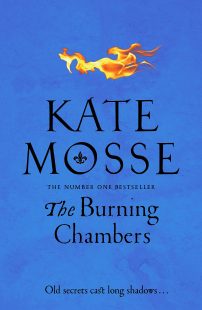 A book review by our volunteer Elaine.
I recently saw an interview on TV with Kate Mosse, who was discussing her new book "The Burning Chambers" advising that it is the first of four volumes.
So how serendipitous that Wendy, our librarian, approached me and asked if I'd be interested in reading a book that had been donated to us, the donation being one and the same.  Not wanting to look a gift horse in the mouth I agreed!!
Firstly let me assure you that this can be read in its own right – it is well-rounded and you can't help empathising with the main female character, Minou.  Her brother, Aimeric, is another colourful character.  The background is Carcassonne, France, in the Winter of 1562 and there is conflicting beliefs between Huguenot and Catholic and religious ambition shown by one of the protagonists.
I don't want to give any spoilers but maybe the quote "Old secrets cast long shadows…" will intrigue you enough to make you pick up The Burning Chambers for your own pleasure.  I'm certainly looking forward to reading book two at some point in the future.
The Burning Chambers is available to borrow for free from GWL along with hundreds of other novels by women authors.