On Friday July 20th, five of the Seeing Things group got together at GWL for a special guided tour of the brilliant Making Sparks exhibition. This exhibition features work by illustration students from Glasgow School of Art inspired by Muriel Spark's writing. We were really lucky to have Sophie Rowan, one of the artists, with us to guide us around the exhibition and tell us about what was on display.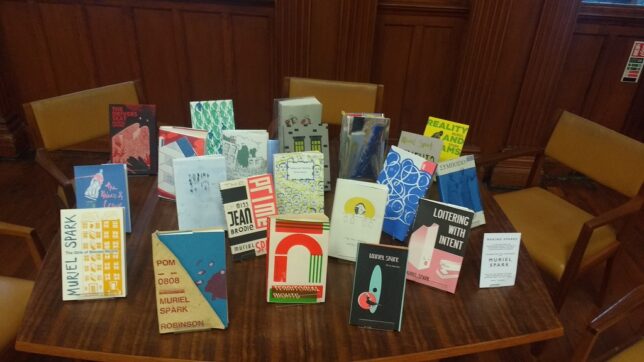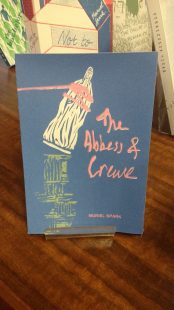 Sophie explained that this project started last autumn, when the students were each given a book by Muriel Spark and told to design a cover. Those of us on the tour had all heard of The Prime of Miss Jean Brodie, but weren't too familiar with many of the other books on display. Even still, we were able to appreciate the beautiful art and it definitely made me more interested in reading some of Spark's work.
Sophie had designed a cover for The Abbess of Crewe and brought along her sketchbook to show the process her ideas went through before she came up with the final design; it was so good to get a behind the scenes peek at how an artist works. She also explained that each artist could only use three colours on their cover. It was amazing to see how creative they all were even with this limited palette, and as one group member pointed out, we hadn't even noticed that the range of colours was restricted.
The next part of the exhibition was the prints the students made. Sophie told us that their brief was to choose one quote from the book they were working with and make a print to go with it. The final works were brilliant, and we loved Spark's witty one-liners.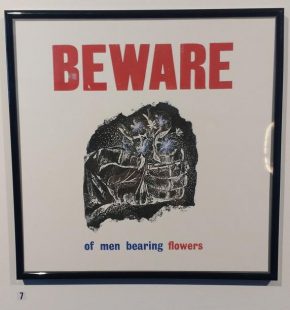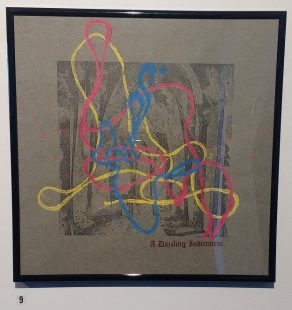 Afterwards, we sat down for a cup of tea and a chat with Sophie. We all agreed that it was a fantastic tour and we loved the exhibition. We came away a bit more curious about Spark's writing, and with a new appreciation for the work artists put in to each of the pieces they produce. 10/10 for a great visit!
Making Sparks is part of Muriel Spark 100, which is a programme of events taking place this year to celebrate the 100th anniversary of Spark's birth. It's running until Monday July 30th during GWL opening hours, so head on down!
If you'd like to join the Seeing Things group, get in touch with the library to add your name to our mailing list. We meet up about every fortnight to see art, performances and cultural events put on by women across Glasgow and beyond. We think it's more fun to go to see things together, and we usually have a cup of tea or coffee afterwards. We'd love to see you there!