At the end of March Seeing Things took a trip to Trongate 103 to visit the Project Ability gallery, where Doreen Kay, Amna Sharif and Jacqui Smyth presented their work. The exhibition of three women artists was put on to mark the centenary of the Representation of the People Act, which gave some women the right to vote.
Kay is a talented painter of people and landscapes. Often working from holiday photos, it isn't uncommon to see the artist on the canvas herself, enjoying the company of friends while relaxing with a scenic view. She has an eye for the dramatic, and her canvases are skill-fully composed. We all really loved the amazing hairstyles in Kay's work, which can be seen in her portrait of Lady Gaga below.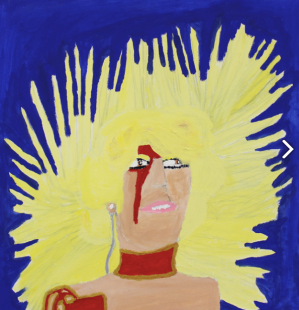 Sharif has a completely different way of interpreting her world in pictures. Usually her work is very abstract with no recognisable imagery. Using a select colour palette, Sharif often works on large canvases, creating atmospheric voids on the surface of the canvas. When working on paper the artist will often repeat small motifs over and over again, until the paper is filled with hundreds of tiny lines, shooting out like multi coloured stars.
Smyth's style of working is again completely different. She has a keen interest in pop music and the culture surrounding it. Her work is playful and very much her own. You won't see another drawing style quite like Smyth's. Very often her drawings will reference bands and musicians, concert venues and album cover art. Text is not uncommon to find on Smyth's work, usually spelling out the artist or venue portrayed in the picture.
As we were walking in we were also lucky enough to see another exhibition by Project Ability, 'The Queen Mothers' group show, displaying works by the first women-only art group consisting of regular artists who use the studio, brought together by Mandy McIntosh. We loved the way they mixed textiles with every-day images from magazine cut-outs. Project Ability runs a range of events, exhibitions and workshops that you can find more information about at their website (http://www.project-ability.co.uk/).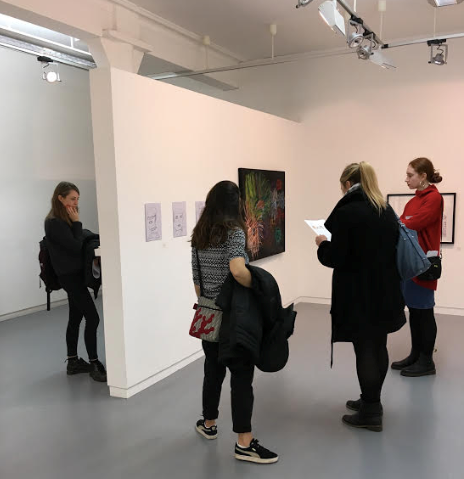 If this sounds like something you'd be interested in joining or hearing more about, keep an eye on the website for upcoming Seeing Things trips. Call the library on 0141 550 2267 or email info@womenslibrary.org.uk to be added to the mailing list.