For the past few months I've been carrying out a research placement in the GWL archives as part of my Gender Studies Masters at the University of Stirling. As my project working with the Edinburgh Women's Liberation Movement Newsletters comes to an end, it feels appropriate to spend this last blog post looking at the final issue of the E.W.L.N., published in April 1996. There is a clear sense within the issue that a significant element in the growth and development of the Edinburgh feminist movement was coming to an end, and that the termination of a democratic, self-published arena for feminist thought and debate was a sad loss for the Edinburgh feminist community.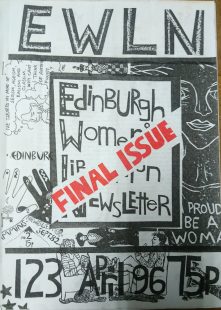 An article entitled 'Goodbye to All That… Or What?' by Susan Matasovska serves as a personal summary of what the end of the newsletter means. Describing the newsletter as a "wee nip at the heels of the bastions of male power", Matasovska notes that the space provided by a woman-led, self-published newsletter is an important one, and still necessary despite the newsletter coming to an end. This kind of document is vital in terms of looking back at feminism and political activism in the pre-internet age, and the current proliferation of feminist blogs (like this one!), and online feminist debate are part of the legacy of this type of written activism. The continuing vitality of zine culture also shows that printed works have not disappeared, and self-publishing is as important as ever.
However, there is also hope for the future, manifested in the Glasgow Women's Library, which is heavily advertised within the issue. GWL is described as "a library of information by and about women – their lives, culture and history", and the advert offers help with research, details the opening hours (1-6pm Tuesday to Friday, and 2-5pm on Saturdays), the access routes to the Trongate location, and describes the benefits of taking out a membership.
The membership form is also included in the newsletter, and describes in more detail the Lesbian Archive, founded in September 1984, and its aim to amass more materials related exclusively to lesbians. It sought volunteers and donations of diverse materials such as "a favourite photo, letters from your loved one(s), your writings and memories about your life (and your friends!), your souvenirs from lesbian events, your lesbian badge collection, the banner you carried on a march", and other personal material and ephemera. This type of acquisition programme serves as a continuation of the lesbian feminist slogan of "the personal is political", and also recognises the importance of a space that allows women to record our own histories. This shows that despite the political activism of the newsletter coming to an end, the feminist community in Scotland was still active, and institutions like the Glasgow Women's Library provided a way to preserve women's stories and histories.