Approaching an Archive – Part Four; Campaign Memorabilia
Welcome back to Approaching an Archive –  a series of blog posts that document my journey as a first time researcher exploring the Scottish Abortion Campaign's (SAC) archive material held by Glasgow Women's Library.
For this blog I wanted to take a break from delving into reports and articles, the more meaty aspects of the SAC archive, and focus on something a bit more colourful. As well as holding paper documents relating to the SAC, Glasgow Women's Library stores an impressive amount of campaign memorabilia from various marches, rallies and protests affiliated with the SAC, the Abortion Law Reform Association (ALRA), and the National Abortion Campaign (NAC). This entry will cover just a few of the interesting items I found while digging through the archive;
The first was a small hoard of cheery yellow badges, each decorated with a line of cartoon phallic blobs rolling condoms onto themselves, from the SAC's sex education material. After finding clear evidence of the campaign's focus on the necessity of education elsewhere in the archive, I thought that these badges must have come from one of these educational events, and realised that I'd seen the little cartoon printed in one of the NAC's 1991 newsletters. Contraception in the early 90s was a hot topic of conversation, with condoms being emphasised not only as a means of preventing unwanted pregnancies, but as a defence against sexually transmitted diseases in the midst of the AIDS crisis, so it's interesting to find this design in particular. These aren't the only badges the library itself holds. GWL is home to an impressive collection of badges showcasing movements from the Suffragettes to the anti-nuclear proliferation movement.
Underneath the badges I found a collection of T shirts, mostly from early 'Pro-Child Pro-Choice' campaigns. These are interesting because the distinction between the two still sparks a lot of controversy in modern American abortion campaigns. Many people struggle with the ability to 'doublethink,' i.e. to equate what would appear to be two opposing ideas to each other, and often believe that to be pro-choice is to be anti-child, and vice versa. In actual fact these two ideas to do not have to be mutually exclusive, and this movement stresses the idea that permitting access to abortion ensures that every child is a wanted child, and stresses the necessity of access to abortion in order for families to be healthy and balanced.
Another colourful shirt that caught my eye was for the 1993 'Run for Choice' campaign running as part of the Dublin marathon, which was endorsed and supported in newsletters by both the SAC and NAC. The legacy of this event continues today in the form of March for Choice, a protest movement fighting to change the 8th amendment to the Irish constitution which equates the life of a foetus to the life of a mother, and prohibits abortion in any circumstance in Ireland. The last March, in September 2017, drew crowds of almost 30,000 people, and proves that the calls for action to change the legislation are far from being silenced.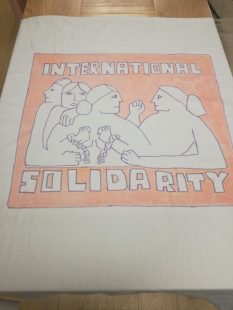 Finally, after returning the shirts and badges to their rightful shelves, I noticed another box near the bottom of the SAC shelves, with 'SAC Banner' printed across the front. Inside was an immense pastel banner, emblazoned with the words 'International Solidarity.' I had found evidence elsewhere in the archive of the SAC's connection to the wider abortion movement, in letters of thanks for educational material sent all the way from Chicago, and international editions of newsletters bringing Scottish readers updates from abortion campaigns happening as far as Latin America. This piece of memorabilia stuck out to me as an incredibly powerful visual connection to these movements. The images of a shoulder grasped in support, of breaking chains and raising fists in triumph, are messages of strength and solidarity that resonate with women's movements the world over, and it was particularly special to find evidence of this support within the SAC archive.
Finding these boxes was a turning point for me in my exploration of the SAC archive, because it wasn't something I expected to find. It proved to me that an archive is so much more than old newspapers and cut and dry papers; an archive a living, breathing record that researchers can make a real connection with, and being able to touch and feel material like this allows us to engage with movements like the SAC on a very human level.
Until next time, Phoebe x
Read Part One // Part Two // Part Three of 'Approaching an Archive' 
Want to see the archive for yourself? Good news! The materials are available for public access, as long as you contact the library ahead of time and let them know what you're looking for. You can also search the archive directory and see if anything takes your fancy!