Approaching an Archive – Part Two; Cardinal Thomas Winning and the Pro-Life Initiative
Welcome back to Approaching an Archive –  a series of blog posts that document my journey as a first time researcher exploring the Scottish Abortion Campaign's (SAC) archive material held by Glasgow Women's Library.
The original purpose of this entry was to explore the importance of language that journalists used to describe the teenage and pre-teen girls who gave birth from 1990 to 1999. In Scotland, particularly in Glasgow and the surrounding area, those who gave birth after 1997 were often described as having either directly – through financial payments and baby products – or indirectly – through the emerging awareness of an alternative option to abortion – 'benefitted' from Cardinal Thomas Winning's motherhood bursary scheme.
As the leader of the Roman Catholic church in Scotland, Cardinal Winning held tremendous clout with religious anti-abortionists, and his scheme was quickly praised among his followers as filling a need that politicians were unwilling to. Once it became clear to me that much of the late newspaper coverage surrounded Winning's Pro Life Initiative, I began to devote more time to finding other documents among the boxes held by the archive marked 'newspaper clippings' that could tell me more about Winning, the initiative, and the young girls who participated.
As of the 10th anniversary of the scheme in May 2007, The Pro-Life Initiative claimed to have 'saved' the lives of over 2,000 babies, boasting an almost perfect success record with only two children recorded as having been taken into care. The scheme provided both financial assistance and the distribution of childcare products such as nappies, clothes, prams and cots to mothers as an incentive for the mother not to abort. The scheme was primarily used by women who would have otherwise considered abortion, for various reasons.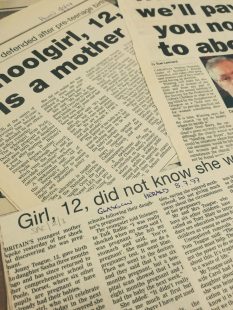 Numerous Pro-Choice movements, including the SAC and the Abortion Law Reform Association (ALRA) accused Winning of bribing women not to have an abortion, and putting pressure to conform to the alternative on those who would have terminated their pregnancy because of a lack of funding and an inability to afford basic childcare products. In doing so, the SAC and ALRA claimed that Winning's scheme was forcing women who were emotionally unprepared for childcare into unreasonable situations.
The first detailed case I found evidence of came from a 1997 Scotsman article held under the headline 'We Will Pay You NOT To Abort!' The Pro-Life Initiative was denounced as a 'birth scheme stunt' that forced a 15 year old girl to keep her baby. She accepted goods and financial aid to the sum of £500, but little or no question was raised to the fact that £500, even in 1997, would have done little to ease the financial burden of raising a child to maturity. Winning and his supporters were incredibly proud of having saved the young 'woman' and her child, and it was this case that first prompted me to question the language that newspapers used to describe a child who had not yet reached the age of consent giving birth to a child herself. Perhaps Winning and the Pro-Life Initiative had referred to this girl as a young woman to absolve themselves of the potential recourse of encouraging a child to give birth.
Further controversy came in 1999 when a 12 year old girl become the youngest to 'benefit' from Winning's scheme. A guardian article from the same year documented Jane Roe's – campaign director for ALRA – criticisms of the lack of consideration Winning and the Pro-Life Initiative have shown for the girl in question. Roe claimed that just because the girl was able to get pregnant at 12 doesn't mean she was emotionally mature enough to go through with the pregnancy, and that the scheme was simply a bribery that removed reasonable choice.
Reading these articles, it wasn't hard to accept criticisms of Winning's scheme as being a band aid trying to cover a gaping wound. Had the Church's goal really been to help young mothers facing difficult choices, or those considering abortion as a result of living in poverty, then surely it would have been more proactive to campaign for better allocation of funding to local councils and health centers, and the fairer distribution of long-term resources to those living in poverty, than simply throwing a few hundred pounds and some nappies at the select few women who they chose to help.
Until next time, Phoebe x
Read Part One // Part Three // Part Four of 'Approaching an Archive' 
Want to see the archive for yourself? Good news! The materials are available for public access, as long as you contact the library ahead of time and let them know what you're looking for. You can also search the archive directory and see if anything takes your fancy!