Approaching an Archive – Part Three; Dr Elizabeth Rose and the Necessity of Education
Welcome back to Approaching an Archive –  a series of blog posts that document my journey as a first time researcher exploring the Scottish Abortion Campaign's (SAC) archive material held by Glasgow Women's Library.
After making my way through most of the early 90s material I began to identify a name that kept cropping up with regards to the SAC's efforts to improve sexual health education in schools for teenagers and pre-teens. Doctor Elizabeth Rose was instrumental in setting up Brook Advisory Clinics in Scotland, and was unwavering advocate of sexual health education in the 1960s, when giving sexual advise – particularly with regards to preventing unwanted pregnancy – to unmarried women was considered controversial.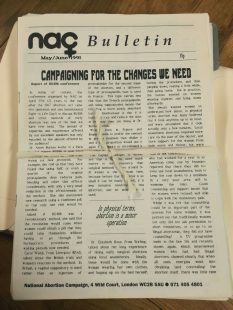 In a National Abortion Campaign (NAC) newsletter dated April 1991, Dr Rose outlined her ideal abortion procedure, highlighting the trauma and stigma that contemporary medical procedures caused. Preferably, a woman would arrive wearing her own clothes and 'hop up onto the bed herself, have the procedure, and then jump down, have a little rest, and go home.' In practise, Dr Rose criticised nurses for insisting that women be subjected to the humiliation of undressing, redressing in a flimsy robe, and remain in the facility where the procedure took place for longer than was necessary. She then insisted that the inconvenience of the procedure, as well as the judgmental behaviour of medical staff, led to many women developing an unnecessary fear and trepidation when it came to what she believed should be as stress-free a procedure as possible.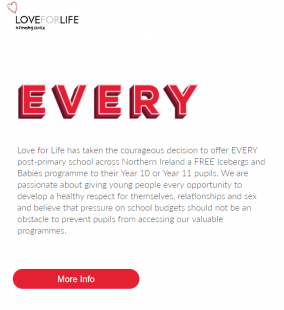 Furthermore, Dr Rose was outspoken when it came to reforming the sexual health education that was given in schools. This is something that I am personally invested in, having suffered through a late 90's and early 00's Northern Irish sexual health program, i.e. the overtly conservative, fear-mongering Christian program 'Love For Life.' I remember being separated from the boys, and while they went off to learn explicitly about the ways in which their bodies were going to change – which we only discovered was the case much later – we were treated to the barest of basics about menstruation, delivered by a middle aged woman who could not look more uncomfortable if she tried.
We were not told anything about our own genitals, let alone prepared for what sex practically involved. The most obscure part was being given an ice cube and being asked to pass it around a circle while keeping an eye on our original, and rapidly melting, ice. Once it was returned to us we were told to look at our much diminished cube, if there was anything left of it at all, and understand that this is what happened to our immortal souls whenever we had sex outside marriage, or with different partners. Jesus would not love us if our ice cube melted. The absurdity of the situation sticks with me even now, especially having recently discovered that the program is still running nationwide.
In another NAC newsletter I found,  dated August 1991, an article by Many Coates was published centerfold. 'I'm pregnant Miss' was a blatant call for education reform, exposing the ignorance of many teens who believed that they could not get pregnant the first time they had sex. It showed that while many young people were aware of the risks of pregnancy associated with sex, clear misconceptions had not been addressed in a lacking sexual education.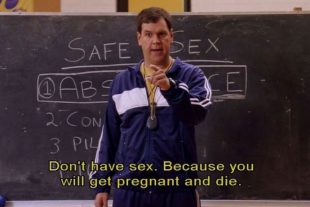 Documents found later in the archive led me to conclude that the level of information imparted in sexual health classes is still controversial, and that as early as 1994 there were calls by the NAC and the SAC for educational classes being given to children in primary schools. Understandably, those who were calling for education for younger children were citing that girls as young as ten were entering puberty, and that by the time sexual health classes were traditionally run, many of the girls had already experienced most of what the information was supposed to be teaching. By starting that education at a younger age, we are able to better prepare children who enter puberty early.
I agree wholeheartedly that sexual education needs to be available to as many young people as possible, but without a properly designed system that introduces explicit specifics you end up with an organisation like 'Love for Life,' the sexual education of which boils down to three words; Don't Have Sex.
Until next time, Phoebe x
Read Part One // Part Two // Part Four of 'Approaching an Archive' 
Want to see the archive for yourself? Good news! The materials are available for public access, as long as you contact the library ahead of time and let them know what you're looking for. You can also search the archive directory and see if anything takes your fancy!