Seeing Things first trip within Glasgow International 2018 was to the women's library itself! We met up to listen to Linder Sterling talk with Adele Patrick about the artworks she has made for GWL.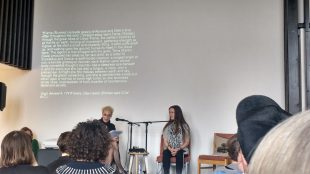 Linder has made an amazing flag for the Library's façade, inspired by the Libraries archives. Linder has also created a film work, filmed at the Mary Queen of Scots Bower, Chatsworth, Derbyshire, where the queen was imprisoned under the rule of Queen Elizabeth 1. I think we all really enjoyed the film, which is short but slow and kind of magical! Linder spoke about how the film explores female relationships, how much she enjoyed looking through the GWL archives, as well as the archives at Chatsworth. We even got a little insight to some of her fab emails to the GWL team during the creative process. And Louise Gray, who designed the amazing costumes for the film, joined to conversation too to talk about her experience collaborating with Linder and GWL.
Here we are holding hands with Linder and Louise! What a treat to meet them both after the talk.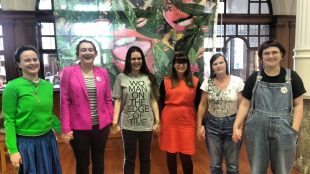 If you are nearby or popping into the library over the next few weeks, take a moment to watch the film in the foyer and have a look at the costumes in the event space!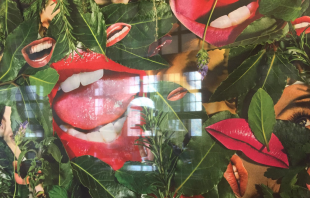 If this sounds like your kind of thing, then keep an eye on the website for upcoming Seeing Things trips. Call the library on 0141 550 2267 or email info@womenslibrary.org.uk to be added to the mailing list.