Hey everyone,
My name is Jeanette and since the 9th of April, I am lucky to call myself an intern at Glasgow Women's Library. Originally, I come from Germany where I study English and Philosophy for a teacher's degree and where I also do a certificate in Gender Studies at Saarland University, Saarbrücken.
For my mandatory semester abroad, I decided to dig deeper into Gender Studies and to broaden my practical knowledge in this field. With a little luck in internet research, I would soon find the lovely homepage of this honourable institution and my certainty in applying for an internship here grew incrementally with every click. What stroke me as most favourable were the versatile projects initiated by GWL and how they try their very best to include every woman's voice – be they a person of colour, LGBT+, disabled or fall under multiple of these labels.
Every four weeks from now on, I will keep you posted about my experiences during my internship and the various undertakings of GWL (of which there are many!).
For a start, let us begin with my first day at GWL. On my first day, I met my wonderful volunteer coordinator Gabrielle, who would take all of the time necessary in order to explain my tasks at GWL to me. First and foremost, I will support our National Lifelong Learning project coordinator Morag with research for her upcoming workshops and projects for external institutions and GWL. Second, I arrived just in time for the editing of the new summer programme, which I will help Emily with. Third of all, I will aid Wendy with any arrangements regarding the Story Café, and last (but not least!), I will join the Front of House team weekly to greet our numerous visitors and offer tours throughout our whole building.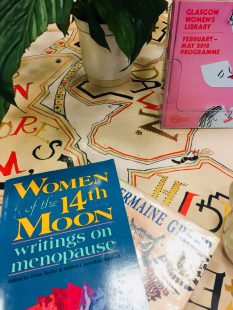 In the two weeks to follow, I would meet all staff members and an incredible number of our volunteers. I was delighted to find everyone having been exceptionally friendly, caring and thankful for the smallest piece of work you would do for them. No matter whom I would talk to, it would be easy to build a connection – partially owing to the staff encouraging a sense of community through small-sized measures. Some of the ways our sense of community and belonging is constantly being manifested are the long lunch breaks (compared to Germany) we would spend together eating at the same table every day or our monthly book picnic. Needless to say that this is most likely the most positive working environment I have ever been part of.
I have been trusted to work autonomously since the very beginning and Gabrielle would assure me that I may choose and change the different blocks this journey will consist of vastly to my preferences throughout the whole internship. So far, I have been content with my choices and enjoying some fun research and participating in events. Moreover, I am grateful for the endless amount of possibilities for personal growth I am being granted and how much time is being taken especially for me. Talking to previous interns, who would still pop in from time to time long after their actual placements, I would learn that this is the general rule of thumb at GWL. Truly an exemplary employer.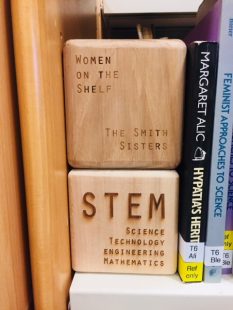 GWL is also exemplary in the way staff is self-organised and motivated to bring the library forward. Different working groups, so-called 'clusters', have been formed around different areas of concern, such as data policy, interior or the environmental impact of the library. On my first day, I would become aware of the strong spirit of DIY and protection of the environment at GWL, which would spark my interest to find out more about how everyone here is attempting to do the balancing act between preserving a building with sky-high walls and windows erected in 1906 and following through with today's needs in environmental protection. Gabrielle, who is also involved in our Green Cluster, would send me our current Environmental Policy. Reading it, my interest in the Green Cluster would not diminish. Have you noticed that we use dishes that will simply need a wee washing up instead of being thrown away? Did you know we try to reuse as many things as possible, even if they require a little up cycling? Take our wooden blocks in the library shelves, for example. They are made from wood that would have gone to waste otherwise but instead, they received branding in order to organise our book collection and be reminiscent of trailblazing women. Absolutely staggering, isn't it? And even more: different renovation projects are being planned as you are reading this. Clearly, I chose to become part of our Green Cluster due to this never-ending well of amazement.
As I do not want to end my very first blog post with work but rather something fun, I would like to add that I could already participate in some of the various events at GWL. I would attend the Story Café Special on Stories from the Baltic Sea, the Creative Writing for Fearties workshop by Donna, and the launch of Linder's exhibition at GWL as part of the festival for contemporary arts Glasgow International. All of these have been unforgettable experiences and reflect the spirit of GWL. I could enjoy myself being read out to, taking a plunge in the beautifully written accounts of women, of their experiences, desires and emotions. I could battle my fears (even after many seminar papers handed in, I still dread any piece of my own writing being judged by someone else!) and improve in ways I would have never dreamed of. I could enjoy some of the higher arts without any transition to fancier places I would think to be out of my league (as I do not come from an academic or at least art- or science-loving family). And, of course, the outstanding mixture of women. I don't believe that in any other event place, I would have met so many women from so many different backgrounds and ages all together.
I am looking forward to extending these positive experiences over the next six months. Hopefully you, my dear reader, will come back to later blog posts of mine where I will explore different and to me outstanding events in more detail.
Love,
Jeanette