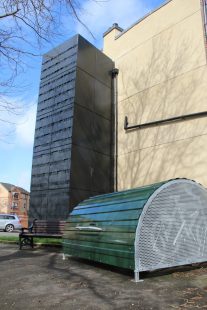 As part of our commitment to encouraging and supporting green travel we now offer our cyclist visitors access to a locked and dry bike shelter, thanks to funding from Cycling Scotland.
The shelter can store up to 6 bikes which should also be secured to the rack inside so please bring a bike lock with you. If you would like to use the shelter on your next visit please ask a member of our front of house team to give you access.  As spaces are limited to 6 bikes, it's use is on a first come, first served basis.  There are two additional bike racks next to the shelter if it were to be full.
While we are confident that the shelter offers an effective way to protect bikes from tough weather conditions, theft and vandalism, we should advise that we cannot assume responsibility for any theft or damage to bikes or any other property left in the storage unit.
If you would like to find out what the best route to GWL is from where you live there are a number of route planning websites available including CycleStreets.net which gives three options depending on how quiet or direct you would like your route to be.
Happy cycling!