Spring may have got off to a chilly start, but that wasn't going to stop Glasgow Women's Library from getting our Firebrand Women Exhibition to Dundee!
In partnership with GWL and Dundee Women's Festival, Dundee Central Library hosted the Firebrand Women Exhibition from 6th March to 17th March as part of our celebration of International Women's Day 2018.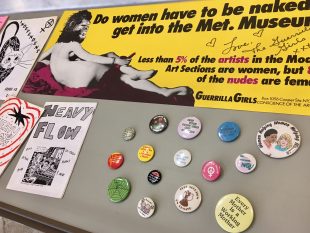 The exhibition showcased unique pieces from the Glasgow Women's Library archive and museum collection, with items ranging from suffragette memorabilia to handmade zines on display for all to see.
As part of the exhibition, we asked visitors to leave us a note telling us what changes they would campaign for – and they did! They told us they wanted better sex education, equal pay and opportunity for women and peace and justice in the world.
Our wonderful GWL volunteer, Mattie Roberts, has expertise in curating and kindly agreed to select and display the items in the Firebrand Women Exhibition. Here's what Mattie had to say:
"Assisting Morag and Rebecca curate the Firebrand Women Exhibition, running as part of Dundee Women's Festival, has been a complete joy in more ways than I can probably do justice in a couple of paragraphs.
The festival tag line this year was 'A Vote for the Future', and so the exhibition responded to this by focusing on women: campaigning, marching and making. By celebrating the hundred-year anniversary of (some) women's suffrage, and the amazing achievements of those women who have challenged the politics of their time, we hope those who see the exhibition feel encouraged to campaign, whether it be on a tiny or massive scale, be it in a personal or political capacity. The Glasgow Women's Library Archive is an active and growing testament to what can be achieved when women collect and organise and we wanted to take a tiny taster of this to Dundee!"
As part of the exhibition, we also hosted a screening of 'March', a documentary about the March of Women event which took place as part of International Women's Day 2015, followed by a rosette-making workshop, where we made our own suffragette rosettes inspired by the film.
We are, as always, very grateful to Dundee Women's Festival, Dundee Central Library and to everyone who came along to explore the exhibition and take part in the workshops.
If you'd like to find out more about the Glasgow Women's Library National Lifelong Learning Project and the exhibitions, workshops and activities we can offer across Scotland, please email us at info@womenslibrary.org.uk or give us a call on 0141 550 2267.

SaveSave
SaveSave