My name is Rhia, and I'm currently working on my master's degree in Gender Studies at Stirling University. As part of a project with Glasgow Women's Library, I'm investigating some of the ephemeral items in GWL's Archive.
In this post, I want to compare available ephemeral material relating to two women's lives – Baroness Elaine Burton and Muriel Spark – and think about how and why they differ.  
A Few weeks ago, I hopped on a train to Edinburgh to go to visit the National Library of Scotland(NLS). It's a fantastic resource for researchers in Scotland, with a vast archive of items spanning the breadth of Scottish history. It's also home to The International Style of Muriel Spark – a display of some of the vast collection of items which illustrate the story of the life of Dame Muriel Spark. Unfortunately, public photography isn't allowed in the NLS exhibit space, but a friend was able to snap a lovely photo of the impressive staircase portrait of Spark, which she's kindly agreed to share.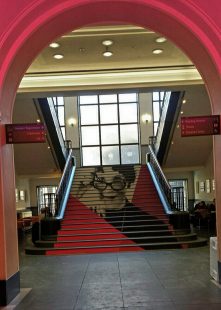 Spark was a novelist and writer, born in Scotland, and famous for her insightful works, including The Prime of Miss Jean Brodie. 2018 marks the centenary of her birth, and a variety of events are being held across Scotland in commemoration of Spark's life and writing.
Curated by Dr Colin McIlroy, the exhibition at NLS explores Sparks life through ephemera relating to the places she lived. From travel tickets to notebooks and even a dress owned by Spark, this display spans a variety of subjects, guiding visitors through a timeline of Spark's life and achievements. Yet the material on display is only a small, carefully chosen selection.
Spark is famously quoted as having said that "since 1949 onwards, I have thrown away practically nothing on paper."
The resulting collection is an astounding volume of items which tell us as much about Spark's life as she might have herself – or maybe even more. Which hotels she lived in, where she travelled – and what mode of transport she preferred, and which class she travelled in – as well as small details like receipts, tickets for local journeys, letters to friends, and posters from adaptations of her work into films. There is almost no detail of Muriel Sparks adult life which is not documented.
Closer to home is a far more petite record of a women's life – Baroness Elaine Burton's travel scrapbook from a trip to America. Elaine Frances Burton was Baroness of Coventry and had been MP for Coventry South from 1950 to 1959.
The travel album contains postcards from the cities she visited, pamphlets and posters from colleges where she spoke on women's employment and training, along with travel tickets, luggage tags, place cards from dinners and events, and even newspaper cuttings of reports on her visits.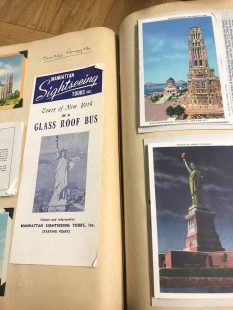 The album provides a rich history of this period in Burton's life. It is however, the only item relating to Burton in the archives at GWL, and possibly the only surviving personal ephemeral item relating to Elaine Burton. Her photo portraits are held in the national portrait gallery, and two of these can be viewed online, while the only other publicly available items relating to Burton's life are a Wikipedia article and a few reports from her political career, as well as the previous blog post from GWL on Burton's life.
So why haven't more items from Elaine Burton's life survived, when we have access to so much information about Muriel Spark?
There's a simple answer to that question, and it ties into lots of the issues which emerge when we look for women in archives. The reason we don't have more material relating to Elaine Burton is simply that it was destroyed after her death. Burton has been living with a woman whose name we don't know, and after the two women passed away their personal papers and items were largely disposed of by a the mother of the woman who brought Burton's photo album to Glasgow Women's Library. The desire of their friend to preserve their privacy drove her to dispose Burton's papers, photographs, and personal items.
The questions which remain for us are almost impossible to answer: Did Burton want her personal things disposed of, or kept? Did she ever indicate who those things should have been given to? If Burton had known about organisations like Glasgow Women's Library, would she have donated her personal items to the archive?
Unable to ask Elaine Burton herself, we can only approach the loss of so much documentation of what appears to have been a fascinating life as onlookers who might wish she had done what Muriel Spark had, and thrown away nothing.
If you think that you might like to donate to the archives of Glasgow Women's Library, please read the information given here about donating to the archive (scroll down the page a little) and contact the library.