The archive collection at the Women's Library is full of material which illuminates women's history, and as part of my Genders Studies Masters at the University of Stirling I've been given the opportunity to undertake a research placement exploring the archives. My project is to study the Edinburgh Women's Liberation Movement Newsletters, of which the archive holds almost the full run, from the mid-1970s to the last issue published in April 1996. The newsletters are a fascinating and invaluable resource, detailing the development and concerns of the Women's Liberation Movement within the Scottish capital. Having a Scottish perspective on this movement is hugely important, and as an Edinburgh local, it's fascinating to have a documentary source of feminist activism in my home city. I'm hoping that through this project I can make the newsletters more accessible, and that these blogs might inspire someone to take a look at this truly engrossing resource.
For International Women's Day 2018, I thought it would be a good starting point to examine the history of the event through March issues of the Newsletter, and consequently to examine the changing landscape of Scottish feminism, and the issues that took precedence at various different times in the minds of the movement.
In March '79 the key event planned for IWD was a week of action from 5th – 10th March aimed at raising awareness of violence against women, culminating in a National March in Leeds. The mission statement for this week of protest was to "link the sorts of violence and the range of violence that we experience e.g. that from chatups or putdowns in the street, at a party, in a shop wherever—to being raped—that these are all violent acts, part of the same control of women by men." Elsewhere in the issue were plans for an Abortion & Contraception International Day of Action on March 31st, with aims for uniform and easily accessible abortion services throughout Scotland, and contraception advice for young women.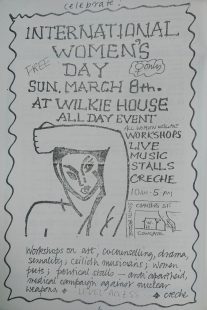 In '87 plans were underway for a Scottish Women's Liberation Conference in September of that year. For International Women's Day itself, the event planned for Edinburgh was an all-day celebration in Wilkie House, with workshops on a variety of feminist political issues, live music and a free crèche. In addition to political events, there was also a free film screening organised for Sunday 8th and Monday 9th March at the Filmhouse on Lothian Road. It celebrated women-oriented cinema, showing Desert Hearts (1986), Red Skirts on Clydeside (1984) and Sweet Dreams (1985). While understanding and combatting the myriad expressions of systemic, sexualised violence has clearly always been a core feminist issue, these events demonstrate a shift towards an understanding of the importance of community events which celebrate women as a response to oppression.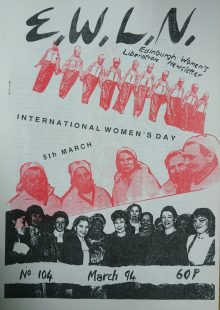 Finally, we can look at the March 1994 issue, which is very close to the end of the Newsletter's run. The events planned for 1994 do not differ significantly from 1987, for Saturday 5th March there was another day-long celebration planned, this time in the Assembly Rooms. It's worth noting the improvements in accessibility, particularly the free entry and availability of sign language interpreters. The most interesting difference in this year's celebrations is the links made between International Women's Day and contemporary events. A Votes for Freedom concert took place in the evening of Saturday 8th May, "celebrating… the end of apartheid & 1st democratic elections in South Africa", demonstrating both the contemporary importance of the end of apartheid and the purview of Scottish feminist activism. In addition to this there was an impressively wide calendar of events throughout March (including some I would like to attend), for example Meet the Author events with Scottish women's historian Leah Leneman and poet Liz Lochhead, a Scots Asian Ceilidh and a candlelight vigil followed by a performance by female drummers.
The most obvious thing this comparison demonstrates (apart from the notable improvement in cover design) is just how much International Women's Day grew during this fifteen year period. By 1994 the event was much larger in scale, and generally more inclusive. The notion that IWD gives us the opportunity to celebrate women's history and achievements has continued to the present day, without losing its roots in political activism against oppression.