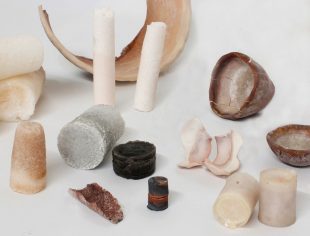 2018 marks the 100th anniversary of The Representation of the People's Act, brought in to reform the electoral system in Great Britain.  Enfranchising women over 30 who met minimum property qualifications, the Act marked a key stage in the continuing journey towards universal suffrage.
Previewing on Thursday 8 March; International Women's Day, and as part of Manchester's Wonder Women Festival, this exhibition will include newly commissioned work by Ruth Barker and Hannah Leighton-Boyce. The University of Salford Chancellor and 'writer in residence', the award-winning writer of fiction, poetry and plays Professor Jackie Kay MBE, will also write a commissioned poem inspired by the exhibition.
Paired by Castlefield Gallery, both women's practice sees them undertake in-depth research projects with the artists often embedding themselves in communities to explore people and place. New work for this exhibition has been made during 2017 when Castlefield Gallery supported Ruth Barker (Glasgow) and Hannah Leighton-Boyce (Manchester) to undertake research residencies: Leighton-Boyce in Scotland with us at Glasgow Women's Library, and Barker in Salford with the University of Salford and University of Salford Art Collection. Over the course of the year Barker and Leighton-Boyce have exchanged many ideas, thoughts and stories, in particular through conversation and letters. New works will premiere at Castlefield Gallery, Manchester, before touring in 2019 to Glasgow Women's Library, and acquisition into the University of Salford Art Collection
New works will premiere at Castlefield Gallery, Manchester, before touring in 2019 to Glasgow Women's Library, and acquisition into the University of Salford Art Collection
Leighton-Boyce describes her recent residency with Glasgow Women's Library as having a profound effect on herself and her work.  She states – "What I realised, or was reminded of on my last trip to Glasgow, was how recent personal experiences connect to the works I am developing; how trauma, loss, healing, reflection have informed decisions and conflated with the themes around the works. The library has been a place where I could feel vulnerable but also supported, where I could let thoughts settle amongst the books I was reading and items in the archive, and to reflect on these through different conversations"
During her residency the welcoming embrace of the library especially struck Leighton-Boyce, and new works for the exhibition take inspiration from a large circular table centrally placed in Glasgow Women's Library, one used for meetings, tea, lunch breaks and conversation.
For Leighton-Boyce the table was reminiscent of the round table in the house of Emmeline Pankhurst, the leader of the British suffragette movement (now the Pankhurst Centre), which was the birthplace of the Women's Social and Political Union; and 'The Table of Sentiments', a domestic parlour table used by American suffragist Elizabeth Cady Stanton to draft 'The Declaration of Women's Rights' at Seneca Falls in 1848.
Her new works will echo her experiences, specifically through her decision to work with salt, drawing on its inherent properties of healing, energy, and the charge of 'coming together' she experienced at Glasgow Women's Library.
In developing her work, Leighton-Boyce entwines ideas and materials, echoing the physical imprints and human presence, the traces of labour and emotion. Her research led her to explore salt as a metaphor for both the physical extraction process of researching and the laboured mind, singular and collective; of form and fluidity, of resistance and preservation.
Join Hannah Leighton-Boyce and our own Dr Adele Patrick at Castlefield Gallery, Manchester, on 10 March 2018 from 13:30 – 16:00 an exhibition tour and discussion over tea and cake.