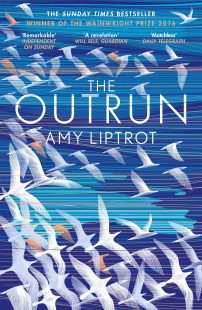 The next book we're reading as part of our GWL Digital Book Group is Amy Liptrot's compelling memoir, The Outrun. Winner of The Wainwright Prize 2016, The Outrun is a beautiful, inspiring book about living on the edge, about the pull between island and city, and about the ability of the sea, the land, the wind and the moon to restore life and renew hope.
When Amy Liptrot returns to Orkney after more than a decade away, she is drawn back to the Outrun on the sheep farm where she grew up. Approaching the land that was once home, memories of her childhood merge with the recent events that have set her on this journey.
Amy was shaped by the cycle of the seasons, birth and death on the farm, and her father's mental illness, which were as much a part of her childhood as the wild, carefree existence on Orkney. But as she grew up, she longed to leave this remote life. She moved to London and found herself in a hedonistic cycle. Unable to control her drinking, alcohol gradually took over. Now thirty, she finds herself washed up back home on Orkney, standing unstable at the cliff edge, trying to come to terms with what happened to her in London.
Spending early mornings swimming in the bracingly cold sea, the days tracking Orkney's wildlife – puffins nesting on sea stacks, arctic terns swooping close enough to feel their wings – and nights searching the sky for the Merry Dancers, Amy slowly makes the journey towards recovery from addiction.
How to Get Involved
We'll be posting updates and related content to this blog. You can find all of the posts so far here.
On Twitter, keep an eye on the #GWLBookGroup hashtag for all related tweets and please do share your own thoughts and insights. We'll be discussing the book throughout the month with prompts to get involved so keep an eye on our account and the hashtag to see what's being said.
Nature Writing
As well as being a beautiful memoir, The Outrun is also a compelling example of modern nature writing. While reading this book, we'd like you to think about the nature that surrounds you. Whether you like to take photos, create artworks or try your hand at nature writing, we'd love to see your work! Share your work with us by tagging #GWLBookGroup on Twitter, share it on our Facebook group or email us at info@womenslibrary.org.uk.
Facebook Group
On Facebook we've created a closed group where we can gather all of the content and discussions. To join, simply request to join the group and we'll approve your request to give you access.
Happy reading!