2017 has been an incredibly busy year for our National Lifelong Learning project, and we're so proud and very grateful to the women all over Scotland who have helped us to make it such a seriously fun and successful time.
In celebration of the end of a great year, we thought we'd take a moment to share some of our highlights with you . . .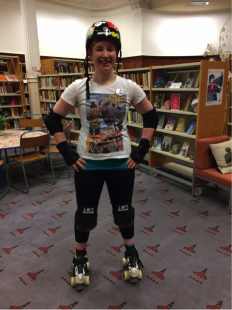 We were delighted to have the opportunity to work with the Audacious Women Festival in February, showcasing the Revolution on Roller Skates roller derby exhibition at Meadowbank Sports Centre in Edinburgh. We were even treated to a no holds barred live demonstration of roller derby at the exhibition launch!
March saw us working with Dundee Women's Festival, sharing women's stories of the experience of menopause (and gathering new ones) at our Changing Stories event, and our Creating Women's Heritage Walks workshops with East Dunbartonshire Leisure and Culture and Trails and Tales continued over spring and summer, with trips to Lenzie, Torrance and Milngavie revealing fascinating stories of women's achievements and contributions to their East Dunbartonshire communities and beyond.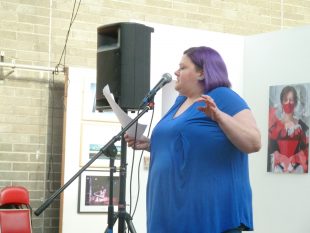 In June, our All Women Poetry Slam in partnership with Edinburgh City Libraries, the Bonnie Fechters and the Harpies, Fechters and Quines Festival took place at the Out of the Blue Café in Edinburgh, and saw slam poet Jo Gilbert take home first prize for her performance. If you didn't manage to catch the performance, you can listen to Jo's poems on our podcast here, and runner-up Lesley Traynor's poems are also available as a GWL podcast.
Throughout the year we've welcomed visitors to GWL from groups including the Girl Guides and young women from St John Ogilvie School who very kindly allowed us to record their lively and extremely interesting conversation about the Scots poets Sandie Craigie and Olive Fraser – you can find out more about this as we lead up to our Open the Door event next year, so watch this space!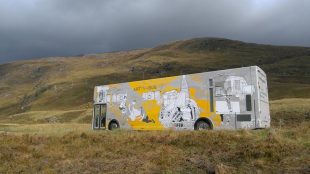 Over the course of late summer and autumn, the Travelling Gallery bus toured all over Scotland, from Annan to Fort William and beyond, taking the artist Lauren Printy Currie's exhibition with it to a warm and enthusiastic reception. Lauren worked closely with the GWL archive to produce a beautiful and discussion-provoking exhibition, and you can find out all about the places we've visited and the people we've met in GWL intern Luba's blog about the Travelling Gallery here.
"New friends, new crafts and new knowledge – loved it all!"

Workshop Participant
We've been really excited to support an ongoing research project with Paisley Women's History Project in partnership with Paisley RAMH at Paisley Museum, and in October we took GWL's Story Café to the Women of the World (WOW) Festival in Perth, where we also hosted a feminist badge-making session and shared the stories of some of the objects that can be found in GWL's unique archive and museum collection.
"Great insight into how this special library works, education and museum, exhibition space and also a significant resource for academics."

Workshop Participant
As we look forward to 2018, we're excited to be presenting our Firebrand Women exhibition as part of Dundee Women's Festival from 4th – 17th March. We'll be visiting women's groups across Scotland, and looking forward to welcoming groups from Aberdeen, Dumfries and Clydebank when they visit GWL at the start of 2018.
As always, if you are interested in being involved with Glasgow Women's Library, or you want to discuss a trip to the Library or a visit from us to learn more about what we do, email us at info@womenslibrary.org.uk or give us a call on 0141 550 2267.
We hope you'll keep in touch with us and check back for National events and projects over the next 12 months, and that you'll be part of the story in 2018.
Thank you once again to all of our partners, participants and everyone we've had the great pleasure of working with this year. A Merry Christmas and a Happy New Year from all at the National Lifelong Learning project!
SaveSaveSaveSaveSaveSave
SaveSave