Elly Taylor is an international award winning producer director. She was born in Edinburgh and brought up in Ayrshire, Scotland. Elly, began her career in television with the BBC in London, where she worked for 9 years, before returning to her native Scotland to work for BBC Scotland in the Arts and Drama Departments. Her BBC career spanned 23 years. She is now an independent Producer/Director with her own Production Company: Taylored Productions Ltd based in Glasgow.
We are thrilled to be showing a 15 minute clip of Elly's fascinating documentary film, Angelou on Burns, during Herland: Alter Native Burns, Friday 26th January, 2018.
Here, Elly speaks to us about the process of making the film:
"Amazingly it is over 20 years ago since I made this documentary. Looking back I see it was a privilege to work with one of America's finest and highly acclaimed writers – Dr Maya Angelou. For me it was an inspiring journey although at times I had to pinch myself that I had pulled it off. As an independent filmmaker getting a project off the ground can be a long hard journey with highs and lows and this one was no exception although I believe if it is easy you won't have a good film.
The idea came about when I heard Dr Angelou on Radio Four's programme 'For Great Pleasure'. In the programme she said her second most favourite poem was Robert Burns' 'Tam O'Shanter' and my imagination was ignited. A film combining these two great poets was a must but the question was how would I achieve this? At that point I had no idea! The first thing was to approach Dr Angelou herself to get her commitment and I did this by writing to her via her publishing company and to my delight she replied quickly and in the most positive way. The journey had begun. I then read all her autobiographical books starting with 'I Know Why the Caged Bird Sings' so that I had an insight into her story.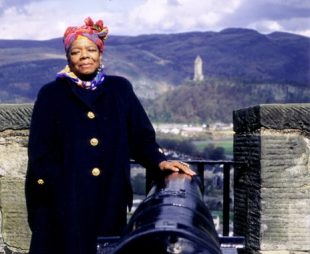 After detailed research I wrote a treatment to pitch to broadcasters and was given development funds which allowed me to go and meet Dr Angelou in her home in USA. She was a charming hostess and liked the script idea I had prepared. She had to be patient though and after another 6 months or so I had commitment from the BBC and The Film Production Fund (now Creative Scotland). The idea had become a reality. The next stage of the journey was filming and this took place in Scotland and the USA. Dr Angelou flew across the Atlantic to Scotland to meet like-minded Burnsians at a Ceilidh in Dundonald Castle in Ayrshire experiencing his music and poetry first hand.
I am so glad the 'Angelou on Burns' story continues with viewing requests and that it will be part of the Alternative Burns Event at Glasgow Women's Library on 26th January 2018."
GWL are equally delighted to be able to share parts of the film with audiences at Herland on Friday 26th January. Herland also includes story, spoken word, poetry and song from a host of women creatives including Gerda Stevenson, Lesley O'Brien, and Lea Taylor. If you'd like to bag yourself a ticket please book on our website here.