With 2017 hurtling towards the finishing line, we've been reflecting on some of the highlights from Story Café this year. There have been SO many! Here are some that really stick in our minds…..
Trip to Edinburgh Book Festival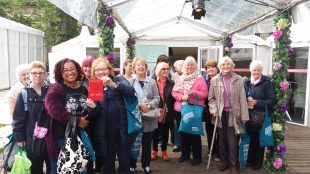 Thanks to the wonderful organisation Open Book, we enjoyed an incredible day out at the Edinburgh Book Festival in August. Free tickets, transport and lunch made this day a total treat for all of us. We were all spellbound by Turkish writer Elif Shafak, who was in conversation with First Minister Nicola Sturgeon and Heather McDaid. A really memorable day for everyone, which sparked discussion and the sharing of ideas for weeks afterwards!
Story Cafe is a 'Libraries Change Lives Award' finalist!
We were all over the moon and super proud that Story Café was shortlisted for the prestigious CILIP Libraries Change Lives Award in October. As well as welcoming the judging panel for a visit, we were thrilled to have a lovely wee film made about us, which really captures the spirit and feel of Story Café.
Book Week Scotland
Our first Story Café with storytelling and live music was a roaring success! Storyteller Lesley O'Brien brought the house down, which was a perfect way to celebrate Book Week Scotland in November.
'Our group sat spellbound – you could hear a pin drop – enthralled by each poems, story and song. A true talent that we hope to hear again!'
Fresh, diverse voices at our Story Café Specials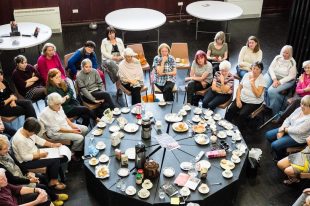 It's always a pleasure to welcome writers to share their work with us, and this year there was an abundance of hugely talented women at our Specials. From luminous poetry to startlingly honest memoirs, our Story Café Specials gave us a real flavour of the diversity and brilliance of women's writing in Scotland.
Thanks to everyone who makes Story Café such as warm, welcoming space for women to get together over lunchtime, and thanks to all the writers who inspire us with their words. Here's hoping 2018 is as brimful of wonderful moments as this year has been!