Story Café starts up again on 25th January, and we have lots of great things in store! Pauline, who is on placement with us from Hamburg, will be exploring German women writers on 15th February, and Louisina, one of our fantastic volunteers, will be sharing her love of Elena Ferante's Neopolitan novels on 1st March. And of course we'll have lots of great author Specials!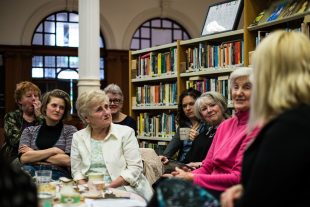 If you've never been along but are thinking about giving it a go in the new year, we'd love to see you around our teacup-filled table. But understandably, you might wonder what it's all about. So, here are some words from women in the group to give you an idea….
'In March this year, I first came to GWL. I had been ill for the previous 15 months, and was virtually unable to go out on my own. My daughter is on your mailing list, and she often said to me how many interesting things were going on at GWL which she thought I would like….so I decided that, as I was feeling a good bit better, it was time to give it a try.
The Story Cafe was to be my first visit. Feeling a lot of trepidation, I opened the door and walked in, my sandwiches in my bag, but what was really amazing to me at the time, was the warm welcome by the receptionist, and she directed me to where the Story Cafe was going to be happening. Considering I was on my own and knew no-one, I could not believe the beautiful welcome I got. Each person was friendly and before long the table was full of goodies to eat, tea and coffee, and even china cups and saucers. I couldn't remember the last time I had tea from a china cup and saucer!
We began, a reading of excerpts from interesting books, women eating and drinking tea, and listening to a story . . . Wow, when do we ever listen to stories these days? In the interval, as fresh tea did the rounds, we were encouraged to talk about, and discuss the issues in the book that had just been read. Each opinion was valued and acknowledged, and the women all supported and listened to each other's point of view. And some of those voices had perhaps not been properly listened to before. These voices now began to be heard and valued.
I always feel when I enter the doors of GWL as if I have had a big warm welcoming hug after coming in from the cold outside.'
Following a lovely session on fairy tales, led by one of our volunteers Pauline, Aileen wrote this poem, which beautifully captures the essence of Story Cafe.
Story cafe / Into the forest by Aileen Paterson
(inspired by Sarah Maitland's Gossip from the Forest as read at the GWL Story Cafe)
We walk hand in hand
into the forest of stories.
This silver birch is a fairy tale
this sapling a poem.
Here and there a haiku
pushes up small shoots.
This circle is strong.
We belong here.
We grow
we are rooted in the earth.
We learn to climb higher.
Stand tall.
There's almost more room around our table, and more tea in the pot, so come along and become part of the story….