We hear from Heather Tulloch, GWL volunteer and graphic designer who has designed our beautiful winter logo!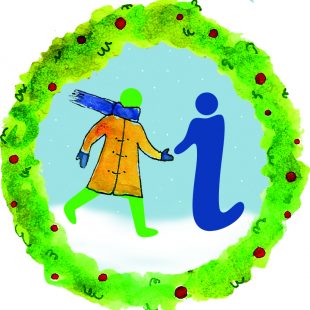 "As the 'Mull over Ethical Gift Night' approaches, I was delighted when asked to design a gift tag for the hand-wrapped mystery books that will be on sale at the event. I gave the GWL logo a festive spin, featuring cosy hat and coat and whilst we were printing off the tags we even saw the first bit of snow fall in Bridgeton — it was officially winter at the Library. It's always so great doing a project at the library because everyone is so supportive and complimentary. Big shout out to Katie and the Front of House Team for helping me make them into cute badges for the shop!"
GWL love the festive logo Heather has designed! It has pride of place as our Twitter profile pic and brings us all joy to see on the badges and gift tags. Thank you Heather!
We host a 'Mull Over Ethical Gifts' shopping night for those who'd like to avoid the hectic high street and pick up some fabulous pressies, on Thursday 7th December. If you can't make it along to the library don't forget most of our products are available on our website too! See our shop here.
GWL close for the winter break at 7.30pm on Thursday 21st December and reopen on Monday 8th January 2018.
Orders for UK delivery can be taken until Tuesday 19th December, but please do contact the library if you have any queries.