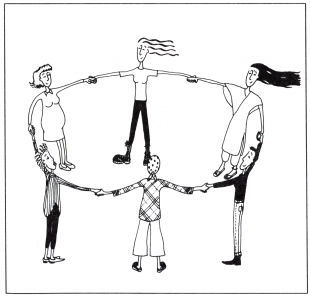 As you may already know, the Speaking Out project will be coming to a close at the end of this year. We're currently finishing off our oral history collection, the exhibition has completed its tour of Scotland, and we've held catch up events with all of our project volunteers. Luckily, there's one last thing still to share – our project publication.
Over the two-year course of the project, we've discovered and explored the forty year history of Women's Aid in Scotland, as told by the people involved with and affected by it. The publication delves a little deeper into accounts of the challenges overcome, the attitudes that have been changed, and the lives that have been transformed by Women's Aid.
Each chapter features quotes from a wide selection of the oral history interviews captured by the project, allowing women's experiences to tell the story of the movement. Illustrations, posters, and other visual material from the history of Women's Aid in Scotland will also be featured throughout.
The publication is a collaborative effort between the Speaking Out team, project volunteers, and feminist activist and historian Dr. Lesley Orr. It's been a challenge to cram 40 vibrant years into a booklet, but we hope it gives a sense of what the movement has achieved.
It'll be available on the project website in December, with printed copies being available from January 2018. Please get in touch if you'd like a printed copy. We hope you enjoy reading it!