Anabel recommends:
Suffragette stories for younger women
With the centenary of the first women getting the vote coming up in 2018, now is a great time to be learning more about the Suffragettes. Here are three novels for children and teens which introduce the subject in an interesting and exciting way.
Until We Win by Linda Newbery

Lizzy Frost will never forget 1914 – the year war broke out and she became a suffragette. At 17 she is working as an insurance clerk, because her parents say it's is a cut above being a factory girl or a maid, but her life changes when she meets Julia and Elsie whose passion for the Suffragette cause lights a spark in her heart. It leads her to jail and a hunger strike, but once war arrives she finds she has another decision to make.
Until we win is published by Barrington Stoke, a company which specialises in accessible, dyslexia-friendly literature for young people. An added bonus is the beautiful cover which has been illustrated inside and out to look like embroidery in the suffragette colours of white, purple and green. Find it in our Fiction for Younger Women section – look for the books with a white sticker on the spine.
Things a Bright Girl Can Do by Sally Nicholls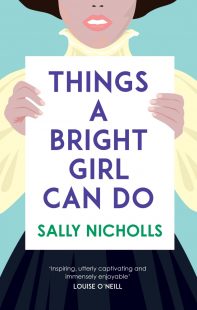 Things a bright girl can do follows three young women from 1914 to the end of the First World War and the extension of suffrage to some women (not including our heroines) in 1918. This use of three characters allows a wide range of views to be presented.
Evelyn comes from a wealthy family but is increasingly frustrated by the restrictions on her life compared to that of her older brother. When she stops to listen to a Suffragette speaking from an orange crate in the street, a young woman thrusts a handbill at her. Her recruitment has begun, and she becomes the only one of the three main characters to go to prison and undertake a hunger strike.
The young woman with the handbill is May. She and her mother are Quakers and align with the anti-violence suffragists. May strikes up a romantic relationship with Nell, a working class suffragette who has grown up in poverty, despite their differences in opinion about the use of violence and, after the War begins, pacifism. Nell's part of the story also sheds heart-breaking light on the hardships of life when a family's main breadwinners are away fighting.
This book is also in our Fiction for Younger Women section. For an interesting article by the author on how and why she wrote it, see History is written by the winners on the History Girls blog.
The Princess and the Suffragette by Holly Webb

Frances Hodgson Burnett's classic novel A Little Princess (1905) told the riches to rags, and back to riches again, story of Sara Crewe. Sara is still a character in this sequel by Holly Webb, but attention shifts to some of the younger pupils at Miss Minchin's boarding school for girls which Sara has now left, in particular to ten-year old Lottie. She and her friends inadvertently get caught up in the Women's Coronation Procession of 1911 which prompts Lottie to find out more about the Suffragettes. Over the next few years, she becomes a convert to the cause – and solves a mystery about her family at the same time. For a young girl who has never read, for example, about the death of Emily Wilding Davison, this is an easy introduction in fictional form.
The Princess and the Suffragette is shelved with our children's books (spine-label CB) and can be enjoyed whether or not you have read the original book, as Sara's background is unobtrusively explained at appropriate points.