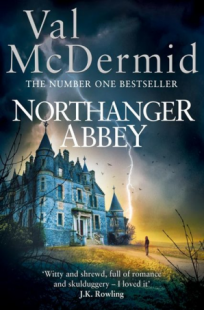 The next book we're reading as part of our GWL Digital Book Group is Val McDermid's Northanger Abbey. McDermid's Northanger Abbey is an updated take on Jane Austen's classic novel about a young woman whose visit to the stately home of a well-to-do acquaintance stirs her most macabre imaginings. A homeschooled minister's daughter in the quaint, sheltered Piddle Valley in Dorset, Cat Morland loses herself in novels (and, of course, her smartphone) and is sure there is a glamorous adventure awaiting her beyond the valley's narrow horizon. So imagine her delight when her neighbors, the Allens, invite her to attend the Fringe Festival in Edinburgh as their guest.
Cat quickly begins to take Edinburgh by storm and is taken into the bosom of the Thorpe family, particularly by eldest daughter Bella. And then she meets handsome Henry Tilney, who lives at the beautiful and forbidding Northanger Abbey. Cat is entranced by Henry and his charming sister Eleanor, but she can't help but wonder if everything about them is as perfect as it seems. Maybe she has just been reading too many novels?
How to Get Involved
We'll be posting updates and related content to this blog. You can find all of the posts so far here.
On Twitter, keep an eye on the #GWLBookGroup hashtag for all related tweets and please do share your own thoughts and insights. We'll be discussing the book throughout the month with prompts to get involved so keep an eye on our account and the hashtag to see what's being said.
Facebook Group
On Facebook we've created a closed group where we can gather all of the content and discussions. To join, simply request to join the group and we'll approve your request to give you access.
Jane Austen in the Library
We're reading Val McDermid's updated Austen to tie into an event we're hosting in the Library on Saturday 4th November. To mark the donation of materials from the Jane Austen Society Scottish Branch to the GWL Archive, we're celebrating Austen and the value of reading aloud.  We'll be reading from Austen's novels and extracts of her letters over a delightful afternoon tea. Regency dress welcomed!
Happy reading!