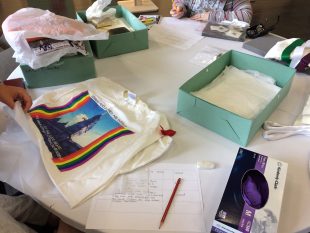 Glasgow Women's Library is the only accredited museum dedicated to women's history in the whole of the UK and our rich collections of books, objects and archives contain rare and unique items that explore every aspect of women's lives from the early 19th Century to today.
Our collections contain everything from Suffragette memorabilia to Women's Liberation material; recipe books and zines; knitting patterns and Roller Derby crash helmets; quilts and protest banners; private journals and newspaper clippings. We are still actively collecting and have wonderful items from the 2014 Commonwealth games in Glasgow, material representing both sides of the Scottish independence referendum as well as placards and pink pussy hats from the Women's Marches across Scotland from 2017.
In April 2017 we put out a call for a group of women to be volunteer Community Curators on our Women Making an Exhibition of Themselves project. We wanted women who are up for quite literally making an exhibition of themselves and we were not disappointed. Our dynamic group of Community Curators meet regularly and have been learning the ins and outs of museum work from collections care to exhibitions.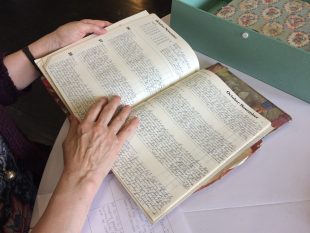 Objects the curators have been examining so far have included t-shirts from the LAIC (Lesbian Archive and Information Centre) collection, transcripts from the witch trials in Scotland, a nurse's training diary, and diaries from the 1840's.
The Community Curators are examining objects and creating lists of each artefact in our museum boxes, all whilst keeping an eye out for any emerging themes and thinking about how the objects might eventually be displayed in the Library.
To mark the halfway point of the Women Making an Exhibition of Themselves project, the Community Curators will share their ideas and vision for GWL's new permanent exhibition at our Hear from our Community Curators event on Tuesday 21st November.
This event is your chance to meet the Community Curators and see a display of their favourite objects from the collections stores.
Keep an eye on our blog for more Community Curator posts and follow the hashtag #CommunityCurators on Twitter.
Snapshot of the #CommunityCurators at work this afternoon @womenslibrary. pic.twitter.com/rsxnPAm7z0

— Krisztina Lackoi (@curiositysherpa) September 19, 2017