Beginnings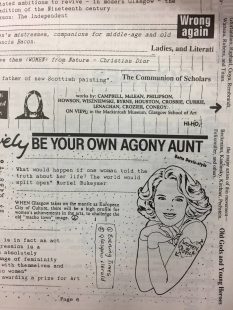 My first impression of Glasgow Women's Library was its warmth; the feeling of inclusion and community even though I'd only been here for a few hours. On my first day, we got to take a peek into the archive full of of feminist/queer gems and GWL's history. Looking through past newsletters as part of our internship research was fantastic; they were witty, fearless and inspiring, showcasing artists and promoting events that would be interesting if they were taking place today – fundraisers, workshops, rallies – I can only imagine how progressive and radical they were in the 90s. I saw wonderful illustrations, poetry and essays (the segment 'Be Your Own Agony Aunt' being my personal favourite). I also learnt that the Reclaim the Night march had been around since 1989, if not for longer. This discovery made me feel connected to all the women who fought and paved the way. Despite being new to the library, I feel rooted.
Sorting through hundreds of digital images in the following days taught me a lot about the library's beginnings and hardships; different locations around Glasgow, leaking ceilings, quirky fundraisers with costumes and performances. What a privilege to see how far the library has come and how successful and popular it's become.
As interns, Eleri and I were responsible for finding contact details for guests invited to the launch of She Made the Library. I'm inspired and almost intimidated by these women who contributed to GWL. It also made me realise that despite being a feminist, I don't know as many great women as I'd like to; I think it's a constant process of making an effort to find out about voices which sometimes get lost, or just don't get heard enough. It's fantastic to see the library not only promoting ideas of inclusivity and diversity on paper, but living and breathing them each day.
Exhibition
The interactive aspect of the project is what drew me to it in the first place. So often art exhibitions put up this wall between artworks and the audience, making it difficult for visitors to start a dialogue with the works, especially if they feel intimidated by gallery spaces. However, She Made the Library remains approachable in my eyes, relying on women to write their own memories and comments next to the displayed photographs. We're hoping that by the end of the exhibition our frames are covered in bright orange writing, comments that identify unknown faces, and place the photographs in now forgotten locations.
Attending the launch night deepens my appreciation for GWL's legacy. The empty room I'd been working in for weeks is now full, the exhibition has an audience. Volunteers chat to long-term staff, members who hadn't been involved in years joke around with interns who joined the library a couple of weeks back. There's champagne and strawberries, and with the sunlight resting on the newly mounted frames, everything feels special.
I get the sense that it's about writing and rewriting our own history away from mainstream patriarchal narratives, away from a male gaze still haunting a significant portion of the art world and our everyday lives. Women captured in these photos are genuinely having a good time, whether it be preparing for a fundraiser, joining a heritage walk somewhere in Glasgow, making a banner for a protest or attending meetings. The shots are candid and full of laughter, passion, but most importantly full of perseverance. To work on a project like this is a great opportunity to test out my skills and learn new ones; attending it means learning a valuable lesson that the narrative of herstory is constantly changing, completing itself.
I look forward to working on Saying Her Name, the culmination of GWL's 25th anniversary celebrations. If She Made the Library had such an impact on me, I can only anticipate the reflective nature of my thoughts after the community-driven performance.