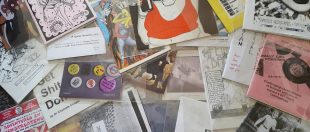 We're so chuffed with the tremendous amount that the team and our project volunteers have achieved in the last 18 months, and to be honest, we'd love the Speaking Out Project to go on forever and ever.
However, the time has flown by, and our project will be wrapping up at the end of this year (sob). Not to worry though – we've filled up these last months with a whole host of exciting events for you to come along to. From a zine workshop to an audio tour to the launch of our learning resource, there's plenty to keep you busy – and they're all completely free. Find more info on the events and how to book, below.
Learning resource launches – 29th and 31st August
Our learning resource launches on the 29th August, when it will be available for free download from our website. We're hosting a couple of information evenings in Edinburgh and Glasgow for anyone interested in using the resource or exploring its themes to find out more. The Glasgow event has sold out, but if you'd like a spot on the Edinburgh event then please email us.
Celebration Conference – 2nd September
Not long now until our Celebration Conference on the 2nd September! Registration closed this week, but if you missed your chance to get a spot then please email us and we'll let you know if it's still possible to attend. We're super excited about this one – a whole day exploring and celebrating the history of Women's Aid in Scotland, with talks by incredibly inspiring women and organisations.
Exhibition – on-going
The Speaking Out Exhibition has just two more stops on its Scotland tour! It's currently on display in Aberdeen Central Library, where it will be until the 16th September. It will then go to our pals in Glasgow Women's Library, opening there on the 22nd September. Join us at the launch on the 21st September (wine and nibbles provided!) – booking here.
Audio Tour – Saturday 7th October
We've collected so many amazing oral history interviews during the Speaking Out Project – here's your chance to hear snippets from them as you move around the Speaking Out exhibition. We'll also be exploring some of the previously unheard content from the interviews. Don't miss your chance to immerse yourself in the oral histories of Women's Aid in Scotland – book here.
Zine workshop – Saturday 21st October
Join forces with other like-minded women to create a feminist zine in this creative workshop. Drawing inspiration from the Speaking Out project, the Glasgow Women's Library collections, and the work of feminist activists of the past, the group will be a space to share ideas and create powerful responses to gender inequality. No artistic experience is needed! Book here.
Publication launch – December
As a final hurrah, we'll be launching our project publication in December. Watch this space for more details!
–
We're looking forward to seeing you there. Don't forget, we'd love to see your pictures from these events – you can find us on Twitter @SpeakingOut_SWA.