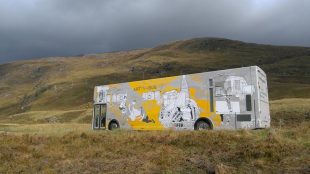 This August, Glasgow Women's Library and Travelling Gallery launched a new exhibition by artist Lauren Printy Currie following a residency at GWL where the archive and collection served as a repository from which the artist drew material and inspiration. The title of Lauren's new exhibition is Her body remembered a night-blooming cereus, sweated industry and salt (what came near).
Travelling Gallery is a contemporary art space inside a bus, which will tour the exhibition around Scotland.  Offering a new take on the recording of women's lives in Scotland, Lauren's exhibition and the GWL workshops promise a fresh and insightful look into women's herstories. Lauren Printy Currie works in sculpture, writing and installation, creating assemblages that hybridize the material and psychological qualities of objects. As it tours, there'll be chance for women of all ages to see the show, discover the mini GWL archive on board and take part in workshops focusing on themes of women's heritage. You can find a list of Travelling Gallery tour dates on their website.
Women's History Unwrapped workshops will be taking place across and you can take a look at the locations below. Workshops are for women only and are free to attend but booking is highly recommended. Workshop are offered in partnership with Travelling Gallery and with support from Outset Scotland and Heritage Lottery Fund.
Women's History Unwrapped – Dumfries, 27th September
Women's History Unwrapped – Clydebank, 9th October
Women's History Unwrapped – Dumbarton, 12th October
Women's History Unwrapped – Bearsden, 17th October
Women's History Unwrapped – Kinghorn, Fife, 17th November