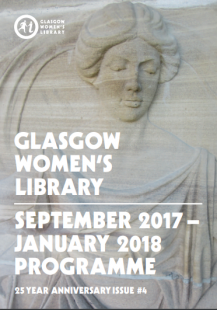 Our Autumn Programme 2017 is now available and you can pick up your copy of the beautiful printed brochure at GWL, take a look on our website, or download a pdf programme to find out all about events and projects happening this season.
Glasgow Women's Library has been making cultural and creative waves since its launch in 1991. With our gorgeous home, life-changing projects and unique Recognised Collections there is so much to celebrate as we conclude our 25th anniversary celebrations in this special anniversary issue #4.
We're trying to make our programme as accessible as possible and with this in mind we're delighted to present our programme in two brand new formats. Below you can download your copy of a large print version of our programme and there's an audio version for you to listen at your leisure. If you have any thoughts or suggestions on these new formats, or on accessibility in general, please do let us know.
Large Print Autumn Programme 2017